Innovations in Panel Building
New value for control panels

Any evolution within control panel design and manufacturing will result in a follow-on evolution within production facilities, therefore benefiting not only panel builders, but the end users or machine builders.

If panel design, panel manufacturing processes and human interaction with panels can be innovated by way of new products, wiring techniques and technologies, then control panel manufacturing becomes simpler and makes a huge leap forward in terms of efficiency. Starting with our shared Value Design for Panel *1 concept for control panel product specification, we look to offer control panel evolution and process innovation for our customers.
*1 Value Design for Panel: Our shared Value Design for Panel (herein after referred to as Value Design) concept for the specifications of products used within control panels will create new value for our control panel customers. Combining multiple products that share the Value Design concept will further increase the value provided.

Simple & Easy for panel building

Easy wiring
Terminal blocks with push-in plus technology help to simplify wiring.
Easy to insert: Using our Terminal blocks with push-in plus technology is easier than inserting an earphone jack.
Held firmly in place: Even though less insertion force is required, the wires are held firmly in place. With our advanced mechanism design and manufacturing technology, we have produced a spring that allows low insertion force while ensuring high pull-out force.
Work with both hands: The terminal mechanism has been designed to hold the screwdriver, enabling you to have both hands free to insert the wiring into the front-facing cable entry point.
Wiring possible with stranded wires: It is possible to insert wires with ferrules, solid or stranded wires.

Front-in and front-release wiring
The terminal cable entry of our independently developed terminal blocks with push-in plus technology all face forward for easy wire insertion.

Learn more about our Easy wiring product solution.

Innovating the panel building process

Efficient Designing
Our electrical control CAD library of our products can assist in reducing design effort.
Partners for electrical control CAD: Zuken, EPLAN
Swift customisation
Devices with unified specifications allow you to easily customise panels for each customer.
The height and depth of our products have been unified, to enable existing designs to be easily customised.
The wide range of products with unified specifications gives you a wider selection: Power Supplies, Timers, Measuring and Monitoring Relays, Sockets (for Relays, Timers, Liquid Leakage Sensors), SSR, DIN-rail Terminal Blocks, Temperature Controllers, Power Monitors, UPSs, EtherCAT
Slave Terminals.

Faster wiring
Unified wiring methods and specifications help shorten delivery times.
Easy-to-understand terminal positions enable more accurate work.
Unified I/O terminal positons allow you to organize the wiring of control panels.
Greatly reduce wiring effort with Terminal blocks with push-in plus technology.
Retightening is not required for Terminal blocks with push-in plus technology. The pressure of the clamp spring holds the ferrule or wire securely, eliminating issues related to screws loosening due to vibration.

Global shipping
Our Value Design products are certified for CE, UL, and CSA.

An evolution for control panels

Space saving
By adding devices in the newly available space, you can mount more devices in the same size control panel to increase control panel functionality.

Side-by-side mounting is possible due to reduced power consumption (therefore generating less heat) for each model at an ambient temperature of 55°C.
Reduce dead space
We'll help you to downsize control panels by reducing the width between wiring ducts and dead space.

Vibration resistance
You can use Terminal blocks with push-in plus technology to create robust control panels that withstand vibration during both shipping and operation.

Improve airflow
The use of components with a uniform height ensures unobstructed airflow. As a result, heat is easily dissipated. Reducing the temperature inside the panel increases product reliability, decreases failure rates, and prolongs product life expectancies.

Find out what our customers say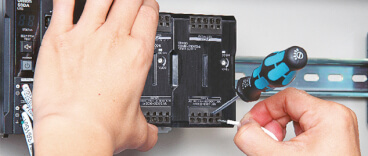 What are the current business challenges you face and how we can assist

Read more