Our Strengths
We have developed over 200,000 control devices and applications to meet the on-site needs of customers around the globe.
Since its founding in 1933, OMRON has followed its founder Kazuma Tateishi's philosophy of "To the machine, the work of the machine, to man the thrill of further creation." It is with this guiding principle that we continue to work to deliver automation that solves issues on the manufacturing site.
We develop our control applications from an on-site perspective, by thoroughly and finely coordinating devices from our massive lineup of as many as 200,000 control device products. We also leverage our global support system to help streamline production sites all over the world and create new value.
Developing control products and control applications for solving "10 m or less" manufacturing issues
We use an altitude metaphor to describe the structure that supports production sites. In this metaphor, PLCs and industrial PCs, which collect information from the site and enable coordination with higher-order systems, are placed at an altitude of 10 m, and sensors and other devices that constitute manufacturing equipment at 0 to 1 m. We are strongest in the "10 m or less" areas. 
We focus on issues rooted in manufacturing sites and production lines, developing an extensive lineup of control products and control applications to solve these issues. These products and applications harness cutting-edge technologies like AI, IoT, and robotics, and are brushed up for usability before release.

Extensive lineup of over 200,000 ILOR+S control products
Our extensive lineup of over 200,000 control products—including input devices (such as sensors), control (logic) devices (such as controllers), output devices (such as servomotors and servo drivers), industrial robots, and safety devices—is founded on our first-in-the-world innovations. These products are collectively called "ILOR+S products." "ILOR+S" is an acronym of "Input," "Logic," "Output," "Robot," and "Safety," essential elements in building an FA system. OMRON is the only manufacturing company with a product lineup that encompasses devices for all of these elements.
Hover over
to discover more
Control applications that, using software, finely coordinate our extensive lineup of over 200,000 ILOR+S control products
The ILOR+S products we provide can be mixed and matched according to purpose and setting. We offer as many as 250 control applications that, using software, finely coordinate these products. These applications enable advanced automation that replicates craftsmanship, continues to learn and evolve, and understands and assists human workers. This is something that only OMRON, a solution provider with an extensive lineup encompassing all the ILOR+S products needed for an FA system, can provide. We will continue to focus on manufacturing issues and work to create many more different applications.
Hover over
to discover more
Over 1,600 sales engineers stationed across the globe develop applications and implement them at customer sites
A total of over 1,600 sales engineers are stationed at our sales and support locations scattered across the globe. These engineers, armed with their deep understanding of manufacturing sites, develop applications to solve their customers' issues, and share and accumulate the knowledge and insight they garner along the way. OMRON's organizations are built to apply this knowledge gathered from the many different manufacturing sites across the world so that control products and applications can be developed quickly and tuned for implementation at other sites. Our sales engineers will continue to strive every day to meet the needs of our customers' manufacturing sites, and thereby create value.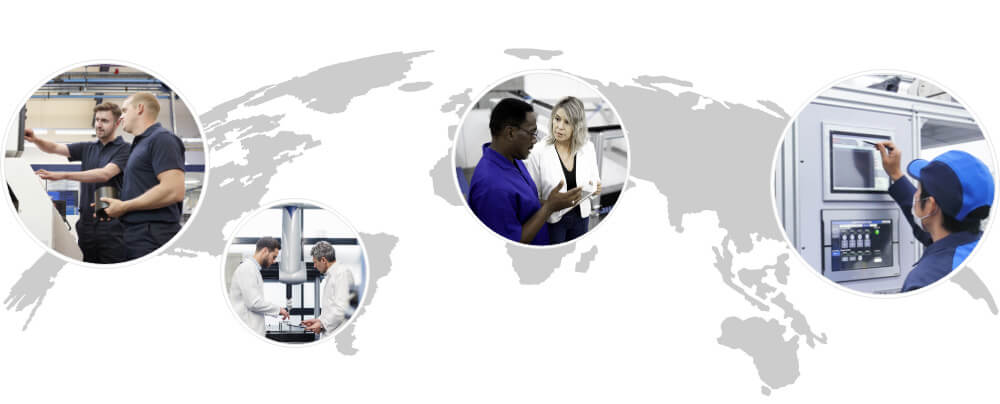 Our European Automation Centers
At the frontlines of i-Automation! innovation, we work together with our customers to turn automation concepts into real-life innovate applications.
Read more