The ultimate inspection cure for beverage processing headaches
In such difficult operating conditions, beverage processors are well aware of the importance of reliability and short machine cycle times. Here, Dan Rossek, Marketing Manager, examines the benefits of using vision systems for inline detection.
Vision systems can be used throughout the production process as a cost-efficient and dependable solution when inspecting the exterior quality of products and packaging. As a quality control measure, they can be utilised to inspect empty containers, before the actual filling process, or for final exterior quality inspections such as labels and booklets - or to detect the presence of straws, for example. The final exterior inspection is therefore often integrated into a final inspection station incorporating other technologies for a complete quality control solution.
Because of this flexibility, vision systems are generally used for higher value products, for example, verifying serialised 2D codes on labels to fight counterfeits. In a recent project, this feature enabled counterfeit bottles of cheap wine labelled as expensive Italian wine to be successfully detected.
Addressing inline detection headaches
However, depending on the process and application, there are a number of hurdles to overcome in terms of technology and cost. For example in high speed processes, where the detection and image processing speed is critical. In other applications having several inspection points on a bottle demands the use of multiple cameras - pre-processing these different camera images into a single image for evaluation can be crucial for some manufacturers. A third aspect often raised is the required flexibility to adapt inspection to different sizes, containers and marketing programmes.
Price pressure is a significant hurdle as well and has generated two different trends. While a part-cost reduction is a common approach, there is also the need to evaluate the overall task and measure the cost improvements, taking the total Cost of Ownership (TCO) into consideration.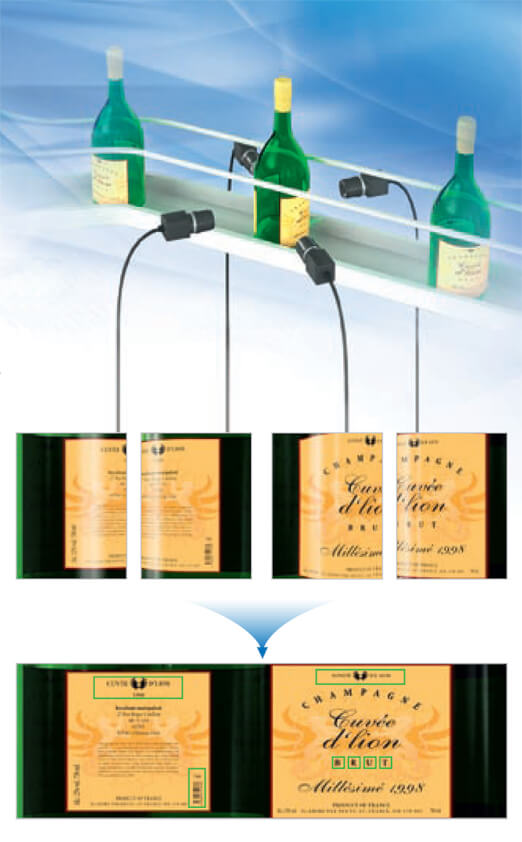 To address challenging inspection speed requirements, we have adopted several methods. Firstly, image acquisition and pre-processing speeds have been improved by using parallel hardware architecture, also software image processing speeds have increased by using new algorithms, such as the 'sparse edge' detection feature and variation prediction. The Shape Search III vision algorithm allows fast, precise measurements to be made even if images are out of focus. Finally, communication speeds to databases, PLCs or other devices have improved by utilising the EtherCAT machine control network. In particular, the FH compact vision system can achieve communications cycle times as short as 500µs and this enables the implementation of motion control to be synchronised with the communication cycle.
Responding to customer needs
The need for flexibility and simple implementation was a direct result of feedback from operators who were unhappy in having to wait for highly trained experts to make adjustments for them. Therefore, the approach was taken to simplify the set up process that allowed operators to make their own adjustments. For more complex tasks, training is offered for more experienced operators and, from feedback received, users indicate that they now feel confident to perform all the necessary tasks by themselves. Trained experts can access all functionalities to set up complex or super high performance inspection systems and specific user groups can be created with different admin rights depending on the functionalities that need to be accessed.
Best solution?
With so many vision systems available, it's important to identify the best solution for a specific application and the right tool with the appropriate performance. If processing speed is vital, then the inspection performance that is offered by the FH compact vision system is approximately 10 times faster than comparable systems in the market. If cost optimisation is important, we offer a wide range of optical inspection solutions, from simple sensors to the highest performance systems. Because we have such a wide partner network to integrate our products into turn-key solutions, this makes us relatively unique.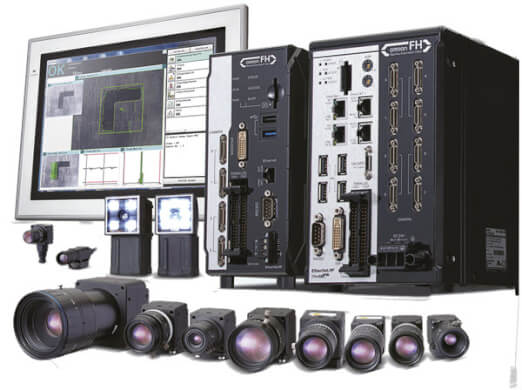 The new FH vision system provides leading edge inspection performance, with quad core processing and the fastest image capture rate on the market. Omron is setting new standards for speed, performance and versatility, which means that operators can achieve shorter machine cycle times and improved production line efficiency. The FH vision system is ideal for beverage processing applications with high speed manufacturing machines and, with up to eight camera inputs, multiple inspection points through a single controller can be made.
What's next?
So, if the quality and efficiency of beverage plants is to continually improve, how should inline inspection vision systems evolve? The current 'smart phone' generation is used to having data available at their fingertips wherever they are, so users expect more intuitive interaction between devices. Therefore, beverage manufacturers will go beyond the mere inspection of products and look at tasks that incorporate smart user interaction, interfacing between devices and machines, data storage and evaluation. I believe this is certainly something that the future holds for the beverage processing industry.
Follow OMRON Industrial Automation Europe on Linkedin