E5_C-T
Compact and intelligent Ramp/Soak controllers
The E5_C-T Ramp/Soak temperature controllers expands the E5_C family to handle process applications. Capable of addressing up to 6 event inputs and up to 4 auxiliary output all in a compact 60 mm (depth) housing, makes this controller series one of Omron's most powerful and versatile temperature controllers.
Set up to 8 programs  with 32 segments totaling 256 program segments simply via CX-Thermo software.
The three-level display is visible simultaneously so each process status can be easily identified.
"Segment Jump" allows users to move directly to the specified segment reducing programming time and increase production throughput.
Specifications & ordering info
| Product | Size | Functions | Number of control loops | Temperature range | Temperature input type | Linear analog input type | Features | Number of event inputs | Number of alarm outputs | Supply voltage AC | Supply voltage DC | Control output | Communication port(s) | Terminal | Description |
| --- | --- | --- | --- | --- | --- | --- | --- | --- | --- | --- | --- | --- | --- | --- | --- |
| | 1/16 DIN (48 x 48 mm) | ON/OFF control, PID control | 1 | -200-2300 °C | B, C (WRe5-26), E, J, JPt100, K, L, N, P (PLII), Pt100, R, S, T, U | 0 to 10 V, 0 to 20 mA, 0 to 5 V, 1 to 5 V, 4 to 20 mA | SV programmer (8 programs of 32 segments) | 0 | 3 | 100-240 V | | Voltage pulse | | Screw | Temp. controller, PRO, 1/16 DIN (48 x 48 mm), Progr., 3 AUX, 1 x 12 VDC pulse OUT, 100 to 240 VAC |
| | 1/16 DIN (48 x 48 mm) | HB/HS alarm for 3-phase heaters, ON/OFF control, PID control | 1 | -200-2300 °C | B, C (WRe5-26), E, J, JPt100, K, L, N, P (PLII), Pt100, R, S, T, U | 0 to 10 V, 0 to 20 mA, 0 to 5 V, 1 to 5 V, 4 to 20 mA | SV programmer (8 programs of 32 segments) | 0 | 3 | 100-240 V | | Voltage pulse | Serial RS-485 | Screw | Temp. controller, PRO, 1/16 DIN (48 x 48 mm), Progr., 3 AUX, 1 x 12 VDC pulse OUT, SSR fail.det./3-PH., RS-485, 100 to 240 VAC |
| | 1/16 DIN (48 x 48 mm) | ON/OFF control, PID control | 1 | -200-2300 °C | B, C (WRe5-26), E, J, JPt100, K, L, N, P (PLII), Pt100, R, S, T, U | 0 to 10 V, 0 to 20 mA, 0 to 5 V, 1 to 5 V, 4 to 20 mA | SV programmer (8 programs of 32 segments) | 0 | 3 | 20.4-26.4 V | 20.4-26.4 V | Relay | | Screw | Temp. controller, PRO, 1/16 DIN (48 x 48 mm), Progr., 3 AUX, 1 x Relay OUT, 24V AC/DC |
Compare products
Show more products
How can we help you?
If you have a question or would like to ask for a quote, please contact us or send a request.
Features
Temperature profiles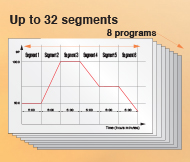 Process Control according to your needs
Applying less stress to valuable objects due to reduced temperature overshot (step response) and precise regulation in terms of disturbances, is our recipe for best processing results providing the added value for machine/object. Ramping and soaking can be fluently executed without the need for adjusting parameters manually. Even if there are changing process characteristics, the powerful auto-tuning quickly leads the user to a stable operation, overtaking PID settings automatically.
Setting-up temperature profiles is made easy by using CX-Thermo Software which is applicable for the whole E5_C Platform. This tool helps to visualize and track the process in diagrams or log data on an external host with Windows operation system.
LCD display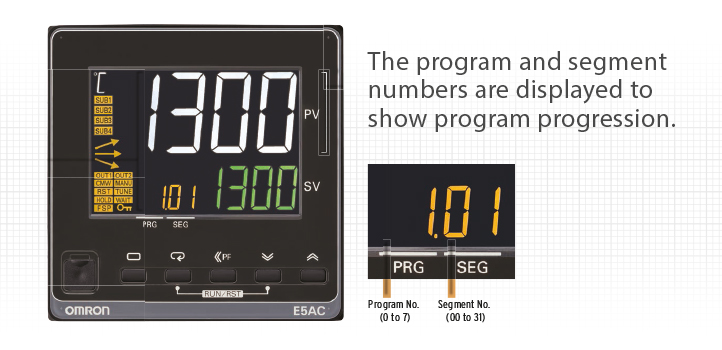 "JUMBO" LCD display for best visibility
Providing the relevant PV/SV values on the largest display in its class on the Global Market*, with outstanding visibility and contrast. Even under severe ambient lighting conditions E5_C can be read from a far distance. Due to its modern ergonomic design (IF Design award) the E5_C can optically be integrated into every panel. Additional information about the executed program and operating segment can be seen at a glance.
Easy Set-up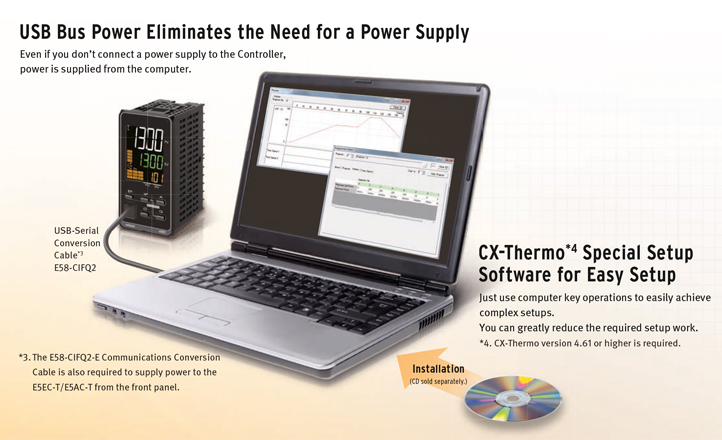 Quick commissioning of machines
The E5_C series can be easily connected, set-up and operated in only a few steps using the instrument's 5 front keys. The CX-Thermo software and useful navigation assistant for intuitive settings allows for a very quick parameter setting, easier device adjustment and simpler maintenance.
Precise control

Rely on our patented 2-PID
For many years our goal is to assure best regulation performance in temperature control. Following the patented 2-PID algorithm, integrated in almost every Omron controller, the same recipe can be found in the "T"-Programmer family. Combined with a unique control loop time of 50 ms and 0,1 °C of resolution, E5_C-T is the best partner for saving time in terms of quick disturbance response whilst keeping high precision in regulation of temperature. As the design of machines is continuously moving into high speed requirements, our controllers have already adapted to these tendencies.
Useful functions
Alarms
-Standard Alarms
You can output an alarm when the deviation, process value, set point, or manipulated value reaches a specified value.
You can also output alarms for the PV rate of change and for loop burnouts.
If necessary, a more comprehensive alarm function can be achieved by setting a standby sequence, alarm hysteresis, auxiliary output close in alarm/open in alarm, alarm latch, alarm ON delay, and alarm OFF delay.
-HB and HS Alarms
With models with the optional HB and HS alarms, you can detect heater burnout and heater short alarms based on CT inputs.
-Integrated Alarm
You can output an integrated alarm if a standard alarm, HB alarm, or HS alarm turns ON.
Event Inputs
With any model that supports event inputs, you can use external contact or transistor inputs to achieve any of the following functions:
Changing programs (changing program number, 8 max.), changing between run and reset status, changing between automatic and manual operation, inverting direct/reverse operation, changing between program SP and fixed SP, 100% AT execute/cancel, 40% AT execute/cancel, 100% AT execute/cancel for all PID sets, 40% AT execute/cancel for all PID sets, setting change enable/disable, communications write enable/disable, canceling the alarm latch, hold/clear hold, advance, and wait enable/disable.
Communications Functions
With any E5_C-T model that supports communications, you can use CompoWay/F, Modbus-RTU,*1 programless, and component communications. Additionally Profibus, Profinet and Modbus TCP protocols are supported.
*1 Modbus is a registered trademark of Schneider Electric.
Transfer Output
With any model that provides a transfer output, you can output the set point, process value, manipulated variable, or other values as a 4 to 20-mA or 1 to 5-V transfer output.
-Program Patterns: Programs: 8 patterns max., Segments: 32 max. per program
Program initial set point: Segment 0 set point, present value (PV), or fixed SP
Program start time: Standby operation (delay) can be set.
Repeating and linking programs are also possible.
-Controlling the Program
Run (program operation started)/Reset (program operation stopped)
Advancing the segment holding
Waiting to advance to the next segment
Jumping to segments with a key operation
-Program Status Outputs
Time signals
Run output signal
Program end output signal
Stage output signal
-Adjusting PID Constants
You can easily set the optimum PID constants for the current PID set or for all PID sets by performing AT (auto-tuning) with the limit cycle method.
You can also add RT (robust tuning) to give priority to controlling stability.
Applications
Autoclaves & Sterilisation

Especially in sterilization processes special customized temperature profiles are required. To destroy bacteria, viruses and spores a minimum temperature is needed which must be applied by damp for a certain time which could be quickly set-up by the E5_C-T programmer.
Even pressure or humidity could be monitored by using the linear analogue input giving you more flexibility and a unique design on your panel:
Electric furnaces & ovens (multi loops)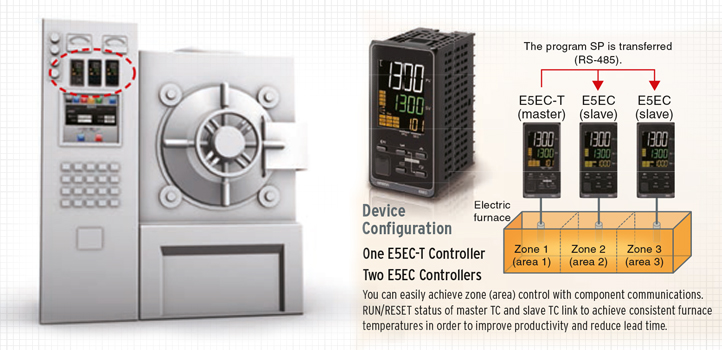 In order to achieve best regulation results in a multi chamber oven, the T- controller with Master/Slave function is allowing you to communicate with non-programmable temperature controllers like E5EC/E5AC from its family.The changing Set point could be transferred to the connected slaves managing their processing zone autonomously (via component communication)
No additional device is needed to transfer parameters like set point to the other slaves
Even RUN/Stop command can be carried out by the 1st Master Controller e.g. via 5th assigned "PF" button.
Laboratory instruments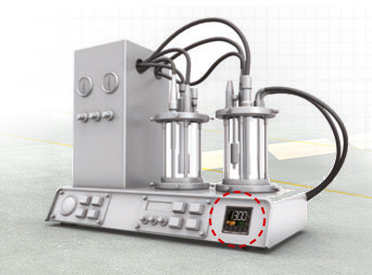 In laboratory environment often different temperature profiles must be run. In case the ambient or processing conditions are changing, different individual PID sets can be recalled – and even if you don't know the parameters Omron's patented 2-PID auto-tuning algorithm is overtaking that for you. If you need to log your temperature curves on an external PC, the CX-Thermo software is helping you to track your data in an easy and understandable way.

Useful function: "Wait" operation – timer is only started when PV is reached
Expertise
Applications
Dwelling/Soaking
In many thermal applications (thermal forming, brick production, pottery, metal treatment and food production, etc.) several processing steps are needed with different dwelling points in each segment. At the end of each step or program the process stops or continues jumping to the next segment which is indicated in the display* (PRG/SEG).  Alternatively you can set different steepness for the ramp-up/ -down period, e.g. allowing a soft decrease of temperature to avoid structural cracks of the heat treated object.

New Auto-tuning feature / Soft Tuning
All segment steps can be auto-tuned by only one command for all and needn't be re-activated each time.
With 40% MV (Manipulating variable) your sensitive object can be soft-tuned avoiding any bigger over-shots.
* Not applicable for (48 x 48) mm models
Process Value blinking display
This provides crystal-clear process status, even from a distance and without the need for interpreting the values. When one of the heaters is not within a set-point range the Process Value can start blinking alarming any operator.
Alarm Management for safe conditions
In plastics production the tool used to make the product is changed quite often. Frequent reconnecting of the sensor or heater can result in a wire break (a broken thermocouple, for example) – to avoid any unintended overheating a Loop Break Alarm (LBA) could detect such dangers switching off the machine in time.
Furthermore a heater burnout (HB) or SSR failure could be reliably monitored in our models with SSR failure / Heater burnout alarm function.