Did you know that 4 out of 5 distributors buy this product in a bundle?

There are many variations of passages of Lorem Ipsum available, but the majority have suffered alteration in some form, by injected humour, or randomised words which don't look even slightly believable.

Read more
Features
E3AS Series Photoelectric Sensor
Wide sensing distance of 50 to 1,500 mm, enabling use on any conveyor line width.
TOF-type sensors for used with any type of conveyed workpiece.
Compact-sized body can be mounted anywhere (Metal case type (SUS316L), Plastic case type).
Teaching method allows anyone to set optimal threshold values.
Manufactured using OMRON's proprietary laser sealing method (IP67/IP69K/IP67G).
Antifouling coatings reduce the cleaning frequency on the sensing surface.
IO-Link reduces the time required for startups and changeovers.
Equipped with OMRON's proprietary light emitting element for stable detection of low-reflective workpieces.
Design diverging and converging conveyor lines with a single model
E3AS-F Sensors can detect workpieces by the set distance regardless of their colors or materials, reducing the time required for evaluation and adjustment of each workpiece. Compared to through-beam and retro-reflective models, they take half the work to install, significantly saving setup time.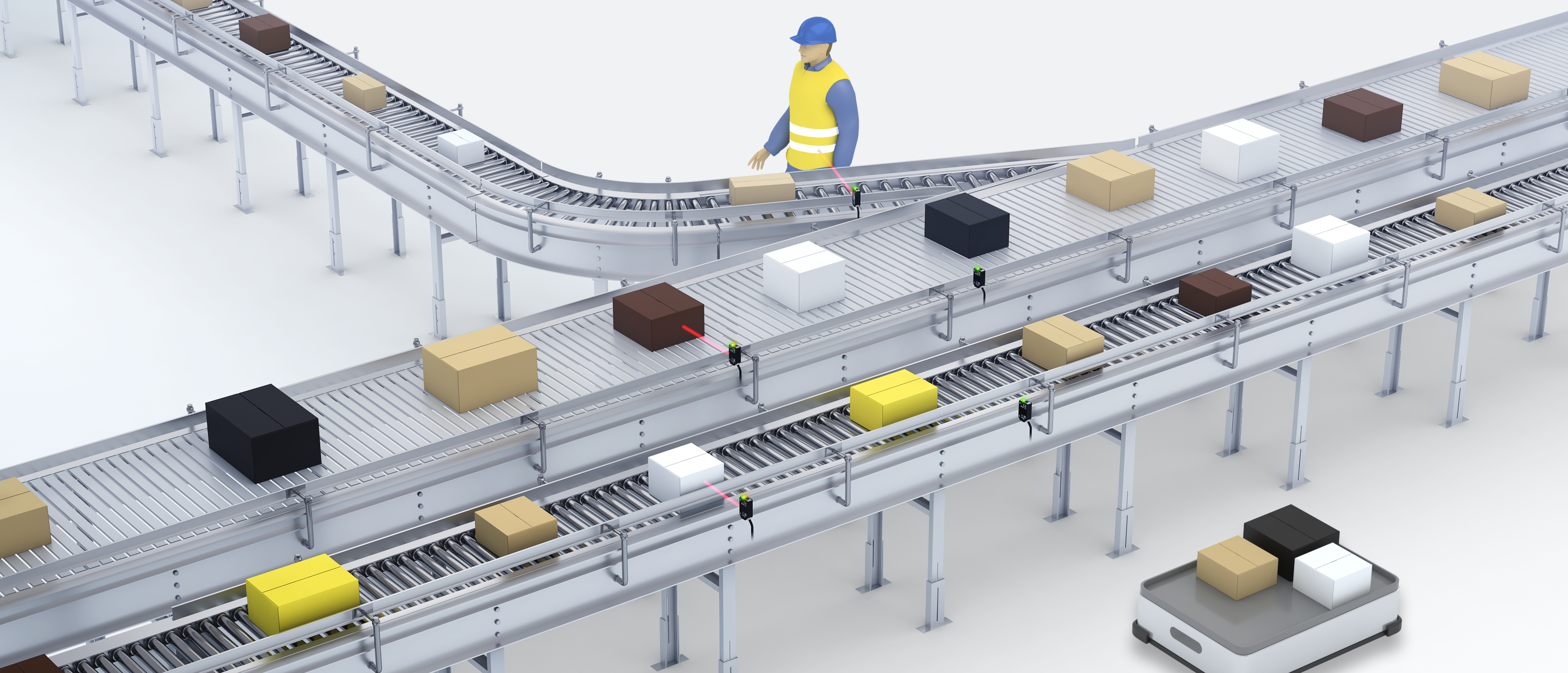 Wide sensing range for various conveyor line widths
Previously, users had to select sensors depending on the required sensing distance. With E3AS-F Sensors, which have a wide sensing range of 50 to 1,500 mm, there is no need to select a different sensor for each application.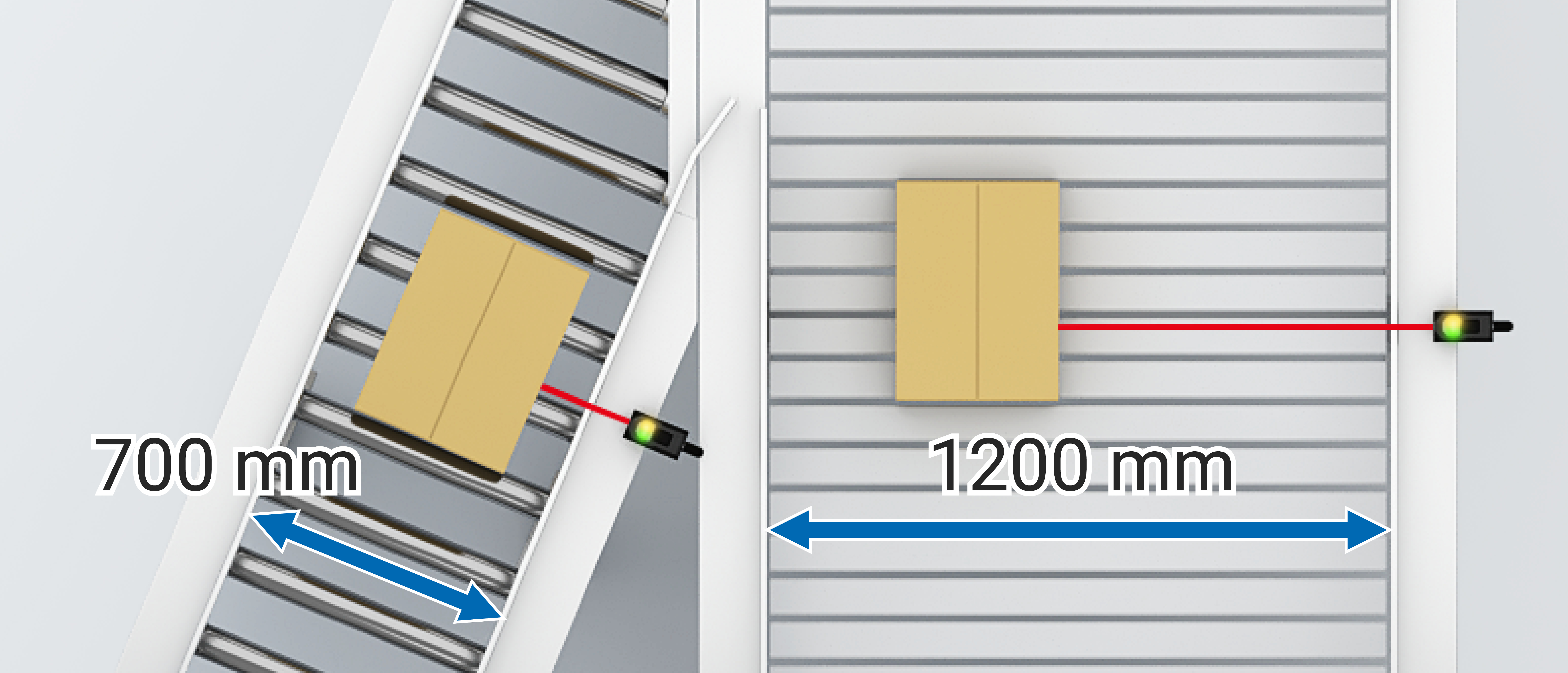 TOF method enables detection of various workpieces on the conveyor line
With conventional photoelectric sensors, prior evaluation was required for each workpiece to be detected. E3AS-F Sensors detect workpieces varying in colors and materials by the set distance. This helps reduce evaluation and adjustment time. Also, they do not detect workers working near the line by mistake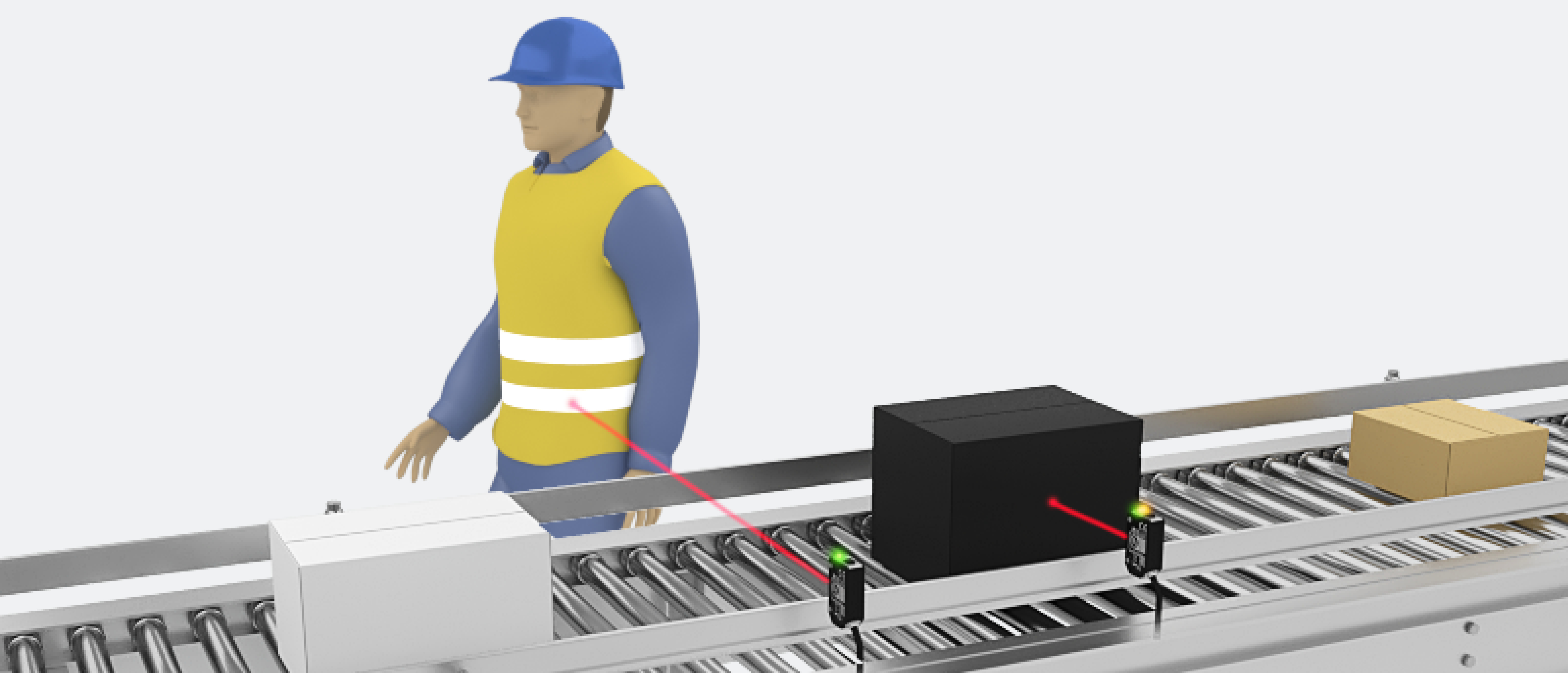 Small enough to be installed in AGVs
Because of their large sizes, conventional long-distance reflective sensors were limited in where they could be installed. E3AS-F Sensors have been significantly downsized, allowing them to be installed in the various locations, providing more design flexibility.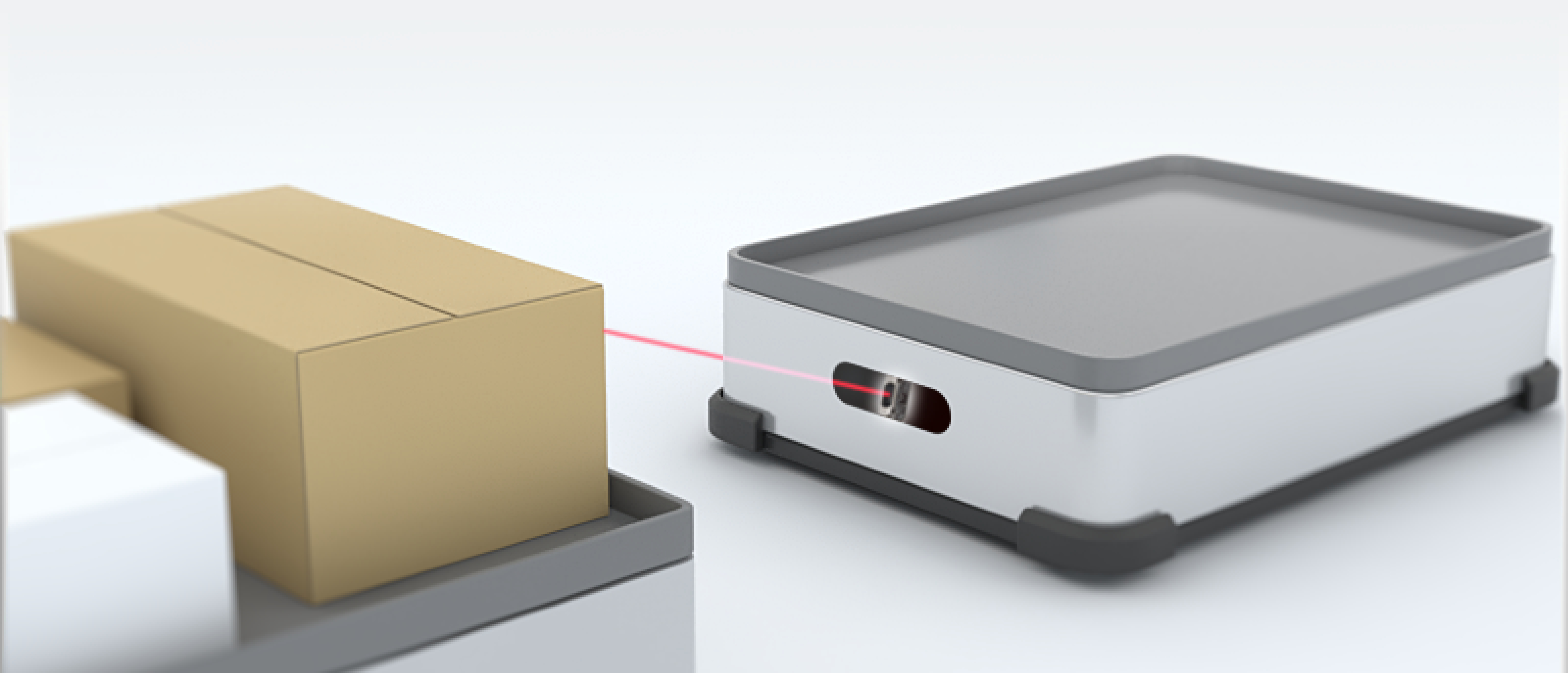 Wide sensing range to address changes in workpiece sizes
Conventional photoelectric sensors needed to be moved or replaced when the distance between the sensor and the workpiece changed. E3AS-F Sensors, with their 50 to 1,500 mm sensing range, can be used without replacement even if a new workpiece is added for detection.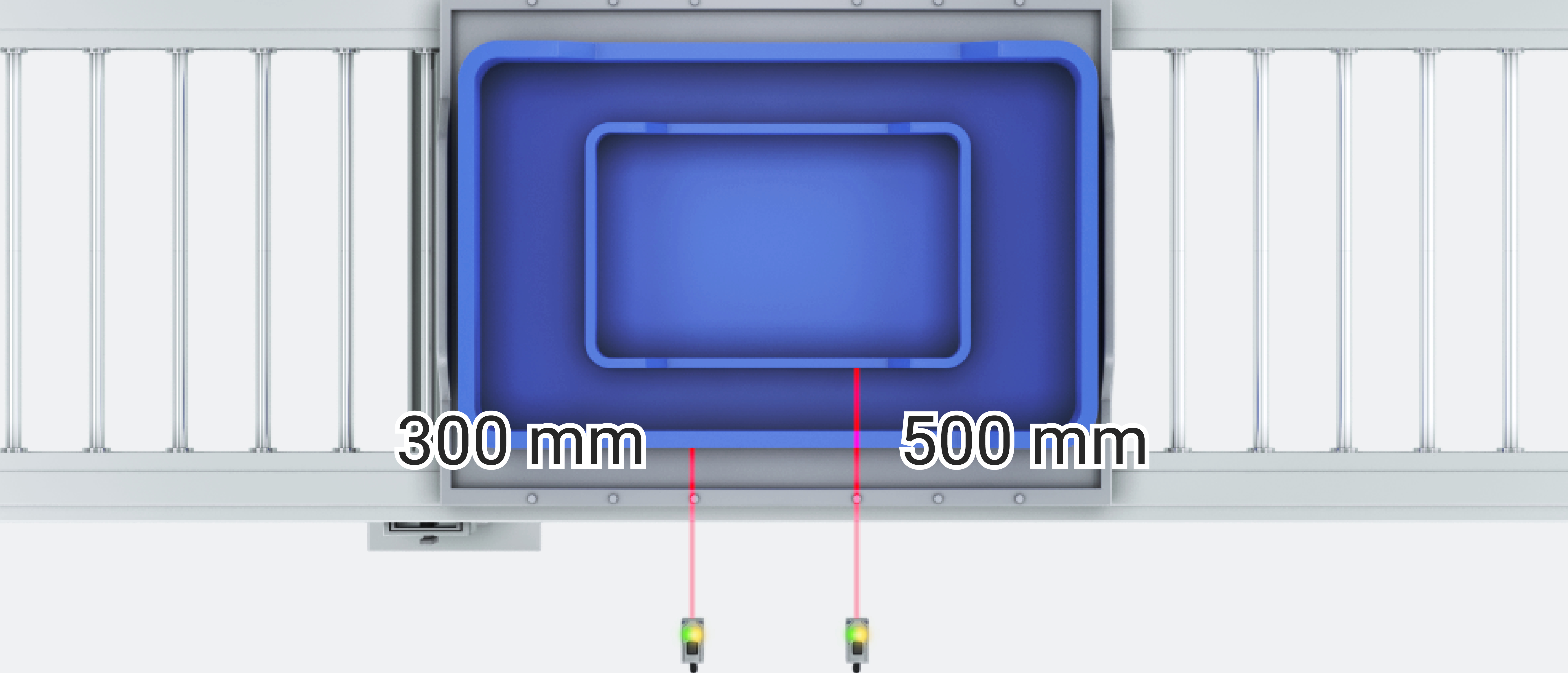 Antifouling coating prevents contamination on the sensing surface
Dirty sensing surface can cause false detection due to the principle of photoelectric sensors. E3AS Series with the antifouling coating on the sensing surface, which is the industry's first, prevents water droplets, oil, and dust from sticking to the sensing surface, and keeps the lens from fogging as well. Therefore, the coating prevents contamination on the sensing surface in environments where oil or dust scatters, or steam generates. False detection and cleaning frequency are also reduced.

Laser welding technologies for different materials/metals for increased environmental resistance
The sensor case is made of stainless steel (SUS316L). Omron's two unique technologies, laser welding technology for different materials and laser welding technology for metals, enhanced the sealing and adhesion between the stainless steel and resin.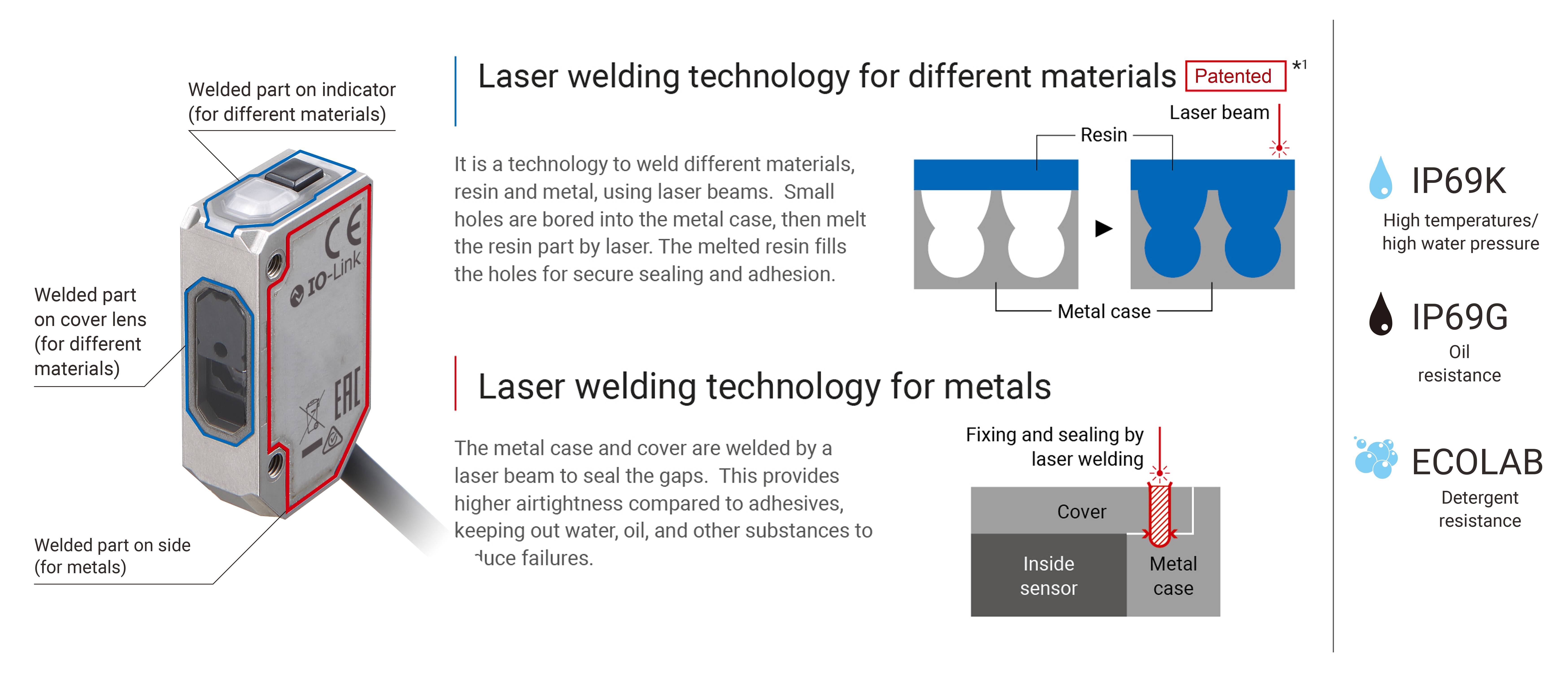 *1. "Patented pending" means that we applied for a patent in Japan, and "Patented" means that we obtained a patent in Japan. (As of August 2019)
Specifications & ordering info
| Product | Shape | Sensing method | Sensing distance | Sensing distance (min.) | Setting method | Connection method | Cable length | Output type | Operation mode | IO-Link baud rate | Response time | Material housing | Width | Height | Depth | Type of light | Laser class | Spot size | Power supply voltage | Features | Description |
| --- | --- | --- | --- | --- | --- | --- | --- | --- | --- | --- | --- | --- | --- | --- | --- | --- | --- | --- | --- | --- | --- |
| | Cuboid | Background suppression | 1000 mm | 50 mm | IO-Link, Teach-In | Cable | 2 m | PNP | Dark-ON, Light-ON | COM2 (38.4 kbps) | 90 ms | Stainless steel | 11.4 mm | 38 mm | 22 mm | Laser diode, infrared light | 1 | 95 mm | 10-30 V | TOF (Time of Flight) | Photoelectric sensor, compact square, stainless steel, TOF, 1000 mm, infrared laser, PNP, L-ON/D-ON, IO-Link COM2, 2 m prewired |
| | Cuboid | Background suppression | 1000 mm | 50 mm | IO-Link, Teach-In | M12 Pre-wired Smartclick connector | 0.3 m | PNP | Dark-ON, Light-ON | COM2 (38.4 kbps) | 90 ms | Stainless steel | 11.4 mm | 38 mm | 22 mm | Laser diode, infrared light | 1 | 95 mm | 10-30 V | TOF (Time of Flight) | Photoelectric sensor, compact square, stainless steel, TOF, 1000 mm, infrared laser, PNP, L-ON/D-ON, IO-Link COM2, M12 Smartclick Pig-tail 0.3 m |
| | Cuboid | Background suppression | 1000 mm | 50 mm | IO-Link, Teach-In | Connector M8 - 4 pin | | PNP | Dark-ON, Light-ON | COM2 (38.4 kbps) | 90 ms | Stainless steel | 11.4 mm | 38 mm | 22 mm | Laser diode, infrared light | 1 | 95 mm | 10-30 V | TOF (Time of Flight) | Photoelectric sensor, compact square, stainless steel, TOF, 1000 mm, infrared laser, PNP, L-ON/D-ON, IO-Link COM2, M8 4-pin connector |
| | Cuboid | Background suppression | 1000 mm | 50 mm | Teach-In | Cable | 2 m | NPN | Dark-ON, Light-ON | | 90 ms | Stainless steel | 11.4 mm | 38 mm | 22 mm | Laser diode, infrared light | 1 | 95 mm | 10-30 V | TOF (Time of Flight) | Photoelectric sensor, compact square, stainless steel, TOF, 1000 mm, infrared laser, NPN, L-ON/D-ON, 2 m prewired |
| | Cuboid | Background suppression | 1000 mm | 50 mm | Teach-In | M12 Pre-wired Smartclick connector | 0.3 m | NPN | Dark-ON, Light-ON | | 90 ms | Stainless steel | 11.4 mm | 38 mm | 22 mm | Laser diode, infrared light | 1 | 95 mm | 10-30 V | TOF (Time of Flight) | Photoelectric sensor, compact square, stainless steel, TOF, 1000 mm, infrared laser, NPN, L-ON/D-ON, M12 Smartclick Pig-tail 0.3 m |
| | Cuboid | Background suppression | 1000 mm | 50 mm | Teach-In | Connector M8 - 4 pin | | NPN | Dark-ON, Light-ON | | 90 ms | Stainless steel | 11.4 mm | 38 mm | 22 mm | Laser diode, infrared light | 1 | 95 mm | 10-30 V | TOF (Time of Flight) | Photoelectric sensor, compact square, stainless steel, TOF, 1000 mm, infrared laser, NPN, L-ON/D-ON, M8 4-pin connector |
| | Cuboid | Background suppression | 1000 mm | 50 mm | IO-Link, Teach-In | Cable | 2 m | PNP | Dark-ON, Light-ON | COM3 (230.4 kbps) | 90 ms | Stainless steel | 11.4 mm | 38 mm | 22 mm | Laser diode, infrared light | 1 | 95 mm | 10-30 V | TOF (Time of Flight) | Photoelectric sensor, compact square, stainless steel, TOF, 1000 mm, infrared laser, PNP, L-ON/D-ON, IO-Link COM3, 2 m prewired |
| | Cuboid | Background suppression | 1000 mm | 50 mm | IO-Link, Teach-In | M12 Pre-wired Smartclick connector | 0.3 m | PNP | Dark-ON, Light-ON | COM3 (230.4 kbps) | 90 ms | Stainless steel | 11.4 mm | 38 mm | 22 mm | Laser diode, infrared light | 1 | 95 mm | 10-30 V | TOF (Time of Flight) | Photoelectric sensor, compact square, stainless steel, TOF, 1000 mm, infrared laser, PNP, L-ON/D-ON, IO-Link COM3, M12 Smartclick Pig-tail 0.3 m |
| | Cuboid | Background suppression | 1000 mm | 50 mm | IO-Link, Teach-In | Connector M8 - 4 pin | | PNP | Dark-ON, Light-ON | COM3 (230.4 kbps) | 90 ms | Stainless steel | 11.4 mm | 38 mm | 22 mm | Laser diode, infrared light | 1 | 95 mm | 10-30 V | TOF (Time of Flight) | Photoelectric sensor, compact square, stainless steel, TOF, 1000 mm, infrared laser, PNP, L-ON/D-ON, IO-Link COM3, M8 4-pin connector |
| | Cuboid | Background suppression | 1000 mm | 50 mm | IO-Link, Teach-In | Cable | 2 m | PNP | Dark-ON, Light-ON | COM2 (38.4 kbps) | 90 ms | PBT | 11.4 mm | 38 mm | 22 mm | Laser diode, infrared light | 1 | 95 mm | 10-30 V | TOF (Time of Flight) | Photoelectric sensor, compact square, plastic body, TOF, 1000 mm, infrared laser, PNP, L-ON/D-ON, IO-Link COM2, 2 m prewired |
| | Cuboid | Background suppression | 1000 mm | 50 mm | IO-Link, Teach-In | M12 Pre-wired Smartclick connector | 0.3 m | PNP | Dark-ON, Light-ON | COM2 (38.4 kbps) | 90 ms | PBT | 11.4 mm | 38 mm | 22 mm | Laser diode, infrared light | 1 | 95 mm | 10-30 V | TOF (Time of Flight) | Photoelectric sensor, compact square, plastic body, TOF, 1000 mm, infrared laser, PNP, L-ON/D-ON, IO-Link COM2, M12 Smartclick Pig-tail 0.3 m |
| | Cuboid | Background suppression | 1000 mm | 50 mm | IO-Link, Teach-In | Connector M8 - 4 pin | | PNP | Dark-ON, Light-ON | COM2 (38.4 kbps) | 90 ms | PBT | 11.4 mm | 38 mm | 22 mm | Laser diode, infrared light | 1 | 95 mm | 10-30 V | TOF (Time of Flight) | Photoelectric sensor, compact square, plastic body, TOF, 1000 mm, infrared laser, PNP, L-ON/D-ON, IO-Link COM2, M8 4-pin connector |
| | Cuboid | Background suppression | 1000 mm | 50 mm | Teach-In | Cable | 2 m | NPN | Dark-ON, Light-ON | | 90 ms | PBT | 11.4 mm | 38 mm | 22 mm | Laser diode, infrared light | 1 | 95 mm | 10-30 V | TOF (Time of Flight) | Photoelectric sensor, compact square, plastic body, TOF, 1000 mm, infrared laser, NPN, L-ON/D-ON, 2 m prewired |
| | Cuboid | Background suppression | 1000 mm | 50 mm | Teach-In | M12 Pre-wired Smartclick connector | 0.3 m | NPN | Dark-ON, Light-ON | | 90 ms | PBT | 11.4 mm | 38 mm | 22 mm | Laser diode, infrared light | 1 | 95 mm | 10-30 V | TOF (Time of Flight) | Photoelectric sensor, compact square, plastic body, TOF, 1000 mm, infrared laser, NPN, L-ON/D-ON, M12 Smartclick Pig-tail 0.3 m |
| | Cuboid | Background suppression | 1000 mm | 50 mm | Teach-In | Connector M8 - 4 pin | | NPN | Dark-ON, Light-ON | | 90 ms | PBT | 11.4 mm | 38 mm | 22 mm | Laser diode, infrared light | 1 | 95 mm | 10-30 V | TOF (Time of Flight) | Photoelectric sensor, compact square, plastic body, TOF, 1000 mm, infrared laser, NPN, L-ON/D-ON, M8 4-pin connector |
| | Cuboid | Background suppression | 1000 mm | 50 mm | IO-Link, Teach-In | Cable | 2 m | PNP | Dark-ON, Light-ON | COM3 (230.4 kbps) | 90 ms | PBT | 11.4 mm | 38 mm | 22 mm | Laser diode, infrared light | 1 | 95 mm | 10-30 V | TOF (Time of Flight) | Photoelectric sensor, compact square, plastic body, TOF, 1000 mm, infrared laser, PNP, L-ON/D-ON, IO-Link COM3, 2 m prewired |
| | Cuboid | Background suppression | 1000 mm | 50 mm | IO-Link, Teach-In | M12 Pre-wired Smartclick connector | 0.3 m | PNP | Dark-ON, Light-ON | COM3 (230.4 kbps) | 90 ms | PBT | 11.4 mm | 38 mm | 22 mm | Laser diode, infrared light | 1 | 95 mm | 10-30 V | TOF (Time of Flight) | Photoelectric sensor, compact square, plastic body, TOF, 1000 mm, infrared laser, PNP, L-ON/D-ON, IO-Link COM3, M12 Smartclick Pig-tail 0.3 m |
| | Cuboid | Background suppression | 1000 mm | 50 mm | IO-Link, Teach-In | M8 Pre-wired connector 4 pin | 0.3 m | PNP | Dark-ON, Light-ON | COM3 (230.4 kbps) | 90 ms | PBT | 11.4 mm | 38 mm | 22 mm | Laser diode, infrared light | 1 | 95 mm | 10-30 V | TOF (Time of Flight) | Photoelectric sensor, compact square, plastic body, TOF, 1000 mm, infrared laser, PNP, L-ON/D-ON, IO-Link COM3, M8 Pig-tail 0.3m |
| | Cuboid | Background suppression | 1000 mm | 50 mm | IO-Link, Teach-In | Connector M8 - 4 pin | | PNP | Dark-ON, Light-ON | COM3 (230.4 kbps) | 90 ms | PBT | 11.4 mm | 38 mm | 22 mm | Laser diode, infrared light | 1 | 95 mm | 10-30 V | TOF (Time of Flight) | Photoelectric sensor, compact square, plastic body, TOF, 1000 mm, infrared laser, PNP, L-ON/D-ON, IO-Link COM3, M8 4-pin connector |
| | Cuboid | Background suppression | 1500 mm | 50 mm | IO-Link, Teach-In | Cable | 2 m | PNP | Dark-ON, Light-ON | COM2 (38.4 kbps) | 150 ms | Stainless steel | 11.4 mm | 38 mm | 22 mm | Laser diode, infrared light | 1 | 95 mm | 10-30 V | TOF (Time of Flight) | Photoelectric sensor, compact square, stainless steel, TOF, 1500 mm, infrared laser, PNP, L-ON/D-ON, IO-Link COM2, 2 m prewired |
| | Cuboid | Background suppression | 1500 mm | 50 mm | IO-Link, Teach-In | M12 Pre-wired Smartclick connector | 0.3 m | PNP | Dark-ON, Light-ON | COM2 (38.4 kbps) | 150 ms | Stainless steel | 11.4 mm | 38 mm | 22 mm | Laser diode, infrared light | 1 | 95 mm | 10-30 V | TOF (Time of Flight) | Photoelectric sensor, compact square, stainless steel, TOF, 1500 mm, infrared laser, PNP, L-ON/D-ON, IO-Link COM2, M12 Smartclick Pig-tail 0.3 m |
| | Cuboid | Background suppression | 1500 mm | 50 mm | IO-Link, Teach-In | Connector M8 - 4 pin | | PNP | Dark-ON, Light-ON | COM2 (38.4 kbps) | 150 ms | Stainless steel | 11.4 mm | 38 mm | 22 mm | Laser diode, infrared light | 1 | 95 mm | 10-30 V | TOF (Time of Flight) | Photoelectric sensor, compact square, stainless steel, TOF, 1500 mm, infrared laser, PNP, L-ON/D-ON, IO-Link COM2, M8 4-pin connector |
| | Cuboid | Background suppression | 1500 mm | 50 mm | Teach-In | Cable | 2 m | NPN | Dark-ON, Light-ON | | 150 ms | Stainless steel | 11.4 mm | 38 mm | 22 mm | Laser diode, infrared light | 1 | 95 mm | 10-30 V | TOF (Time of Flight) | Photoelectric sensor, compact square, stainless steel, TOF, 1500 mm, infrared laser, NPN, L-ON/D-ON, 2 m prewired |
| | Cuboid | Background suppression | 1500 mm | 50 mm | Teach-In | M12 Pre-wired Smartclick connector | 0.3 m | NPN | Dark-ON, Light-ON | | 150 ms | Stainless steel | 11.4 mm | 38 mm | 22 mm | Laser diode, infrared light | 1 | 95 mm | 10-30 V | TOF (Time of Flight) | Photoelectric sensor, compact square, stainless steel, TOF, 1500 mm, infrared laser, NPN, L-ON/D-ON, M12 Smartclick Pig-tail 0.3 m |
| | Cuboid | Background suppression | 1500 mm | 50 mm | Teach-In | Connector M8 - 4 pin | | NPN | Dark-ON, Light-ON | | 150 ms | Stainless steel | 11.4 mm | 38 mm | 22 mm | Laser diode, infrared light | 1 | 95 mm | 10-30 V | TOF (Time of Flight) | Photoelectric sensor, compact square, stainless steel, TOF, 1500 mm, infrared laser, NPN, L-ON/D-ON, M8 4-pin connector |
| | Cuboid | Background suppression | 1500 mm | 50 mm | IO-Link, Teach-In | Cable | 2 m | PNP | Dark-ON, Light-ON | COM3 (230.4 kbps) | 150 ms | Stainless steel | 11.4 mm | 38 mm | 22 mm | Laser diode, infrared light | 1 | 95 mm | 10-30 V | TOF (Time of Flight) | Photoelectric sensor, compact square, stainless steel, TOF, 1500 mm, infrared laser, PNP, L-ON/D-ON, IO-Link COM3, 2 m prewired |
| | Cuboid | Background suppression | 1500 mm | 50 mm | IO-Link, Teach-In | M12 Pre-wired Smartclick connector | 0.3 m | PNP | Dark-ON, Light-ON | COM3 (230.4 kbps) | 150 ms | Stainless steel | 11.4 mm | 38 mm | 22 mm | Laser diode, infrared light | 1 | 95 mm | 10-30 V | TOF (Time of Flight) | Photoelectric sensor, compact square, stainless steel, TOF, 1500 mm, infrared laser, PNP, L-ON/D-ON, IO-Link COM3, M12 Smartclick Pig-tail 0.3 m |
| | Cuboid | Background suppression | 1500 mm | 50 mm | IO-Link, Teach-In | Connector M8 - 4 pin | | PNP | Dark-ON, Light-ON | COM3 (230.4 kbps) | 150 ms | Stainless steel | 11.4 mm | 38 mm | 22 mm | Laser diode, infrared light | 1 | 95 mm | 10-30 V | TOF (Time of Flight) | Photoelectric sensor, compact square, stainless steel, TOF, 1500 mm, infrared laser, PNP, L-ON/D-ON, IO-Link COM3, M8 4-pin connector |
| | Cuboid | Background suppression | 1500 mm | 50 mm | IO-Link, Teach-In | Cable | 2 m | PNP | Dark-ON, Light-ON | COM2 (38.4 kbps) | 150 ms | PBT | 11.4 mm | 38 mm | 22 mm | Laser diode, infrared light | 1 | 95 mm | 10-30 V | TOF (Time of Flight) | Photoelectric sensor, compact square, plastic body, TOF, 1500 mm, infrared laser, PNP, L-ON/D-ON, IO-Link COM2, 2 m prewired |
| | Cuboid | Background suppression | 1500 mm | 50 mm | IO-Link, Teach-In | M12 Pre-wired Smartclick connector | 0.3 m | PNP | Dark-ON, Light-ON | COM2 (38.4 kbps) | 150 ms | PBT | 11.4 mm | 38 mm | 22 mm | Laser diode, infrared light | 1 | 95 mm | 10-30 V | TOF (Time of Flight) | Photoelectric sensor, compact square, plastic body, TOF, 1500 mm, infrared laser, PNP, L-ON/D-ON, IO-Link COM2, M12 Smartclick Pig-tail 0.3 m |
| | Cuboid | Background suppression | 1500 mm | 50 mm | IO-Link, Teach-In | Connector M8 - 4 pin | | PNP | Dark-ON, Light-ON | COM2 (38.4 kbps) | 150 ms | PBT | 11.4 mm | 38 mm | 22 mm | Laser diode, infrared light | 1 | 95 mm | 10-30 V | TOF (Time of Flight) | Photoelectric sensor, compact square, plastic body, TOF, 1500 mm, infrared laser, PNP, L-ON/D-ON, IO-Link COM2, M8 4-pin connector |
| | Cuboid | Background suppression | 1500 mm | 50 mm | Teach-In | Cable | 2 m | NPN | Dark-ON, Light-ON | | 150 ms | PBT | 11.4 mm | 38 mm | 22 mm | Laser diode, infrared light | 1 | 95 mm | 10-30 V | TOF (Time of Flight) | Photoelectric sensor, compact square, plastic body, TOF, 1500 mm, infrared laser, NPN, L-ON/D-ON, 2 m prewired |
| | Cuboid | Background suppression | 1500 mm | 50 mm | Teach-In | M12 Pre-wired Smartclick connector | 0.3 m | NPN | Dark-ON, Light-ON | | 150 ms | PBT | 11.4 mm | 38 mm | 22 mm | Laser diode, infrared light | 1 | 95 mm | 10-30 V | TOF (Time of Flight) | Photoelectric sensor, compact square, plastic body, TOF, 1500 mm, infrared laser, NPN, L-ON/D-ON, M12 Smartclick Pig-tail 0.3 m |
| | Cuboid | Background suppression | 1500 mm | 50 mm | Teach-In | Connector M8 - 4 pin | | NPN | Dark-ON, Light-ON | | 150 ms | PBT | 11.4 mm | 38 mm | 22 mm | Laser diode, infrared light | 1 | 95 mm | 10-30 V | TOF (Time of Flight) | Photoelectric sensor, compact square, plastic body, TOF, 1500 mm, infrared laser, NPN, L-ON/D-ON, M8 4-pin connector |
| | Cuboid | Background suppression | 1500 mm | 50 mm | IO-Link, Teach-In | Cable | 2 m | PNP | Dark-ON, Light-ON | COM3 (230.4 kbps) | 150 ms | PBT | 11.4 mm | 38 mm | 22 mm | Laser diode, infrared light | 1 | 95 mm | 10-30 V | TOF (Time of Flight) | Photoelectric sensor, compact square, plastic body, TOF, 1500 mm, infrared laser, PNP, L-ON/D-ON, IO-Link COM3, 2 m prewired |
| | Cuboid | Background suppression | 1500 mm | 50 mm | IO-Link, Teach-In | M12 Pre-wired Smartclick connector | 0.3 m | PNP | Dark-ON, Light-ON | COM3 (230.4 kbps) | 150 ms | PBT | 11.4 mm | 38 mm | 22 mm | Laser diode, infrared light | 1 | 95 mm | 10-30 V | TOF (Time of Flight) | Photoelectric sensor, compact square, plastic body, TOF, 1500 mm, infrared laser, PNP, L-ON/D-ON, IO-Link COM3, M12 Smartclick Pig-tail 0.3 m |
| | Cuboid | Background suppression | 1500 mm | 50 mm | IO-Link, Teach-In | M8 Pre-wired connector 4 pin | 0.3 m | PNP | Dark-ON, Light-ON | COM3 (230.4 kbps) | 150 ms | PBT | 11.4 mm | 38 mm | 22 mm | Laser diode, infrared light | 1 | 95 mm | 10-30 V | TOF (Time of Flight) | Photoelectric sensor, compact square, plastic body, TOF, 1500 mm, infrared laser, PNP, L-ON/D-ON, IO-Link COM3, M8 Pig-tail 0.3m |
| | Cuboid | Background suppression | 1500 mm | 50 mm | IO-Link, Teach-In | Connector M8 - 4 pin | | PNP | Dark-ON, Light-ON | COM3 (230.4 kbps) | 150 ms | PBT | 11.4 mm | 38 mm | 22 mm | Laser diode, infrared light | 1 | 95 mm | 10-30 V | TOF (Time of Flight) | Photoelectric sensor, compact square, plastic body, TOF, 1500 mm, infrared laser, PNP, L-ON/D-ON, IO-Link COM3, M8 4-pin connector |
| | Cuboid | Background suppression | 200 mm | 10 mm | IO-Link, Teach-In | Cable | 2 m | PNP | Dark-ON, Light-ON | COM2 (38.4 kbps) | 1 ms | Stainless steel | 11.4 mm | 38 mm | 22 mm | Polarity free red light | | 25 x 25 mm | 10-30 V | | Photoelectric sensor, compact square, stainless steel, BGS, 200 mm, red LED, PNP, L-ON/D-ON, IO-Link COM2, 2 m prewired |
| | Cuboid | Background suppression | 200 mm | 10 mm | IO-Link, Teach-In | M12 Pre-wired Smartclick connector | 0.3 m | PNP | Dark-ON, Light-ON | COM2 (38.4 kbps) | 1 ms | Stainless steel | 11.4 mm | 38 mm | 22 mm | Polarity free red light | | 25 x 25 mm | 10-30 V | | Photoelectric sensor, compact square, stainless steel, BGS, 200 mm, red LED, PNP, L-ON/D-ON, IO-Link COM2, M12 Smartclick Pig-tail 0.3 m |
| | Cuboid | Background suppression | 200 mm | 10 mm | IO-Link, Teach-In | Connector M8 - 4 pin | | PNP | Dark-ON, Light-ON | COM2 (38.4 kbps) | 1 ms | Stainless steel | 11.4 mm | 38 mm | 22 mm | Polarity free red light | | 25 x 25 mm | 10-30 V | | Photoelectric sensor, compact square, stainless steel, BGS, 200 mm, red LED, PNP, L-ON/D-ON, IO-Link COM2, M8 4-pin connector |
| | Cuboid | Background suppression | 200 mm | 10 mm | Teach-In | Cable | 2 m | NPN | Dark-ON, Light-ON | | 1 ms | Stainless steel | 11.4 mm | 38 mm | 22 mm | Polarity free red light | | 25 x 25 mm | 10-30 V | | Photoelectric sensor, compact square, stainless steel, BGS, 200 mm, red LED, NPN, L-ON/D-ON, 2 m prewired |
| | Cuboid | Background suppression | 200 mm | 10 mm | Teach-In | M12 Pre-wired Smartclick connector | 0.3 m | NPN | Dark-ON, Light-ON | | 1 ms | Stainless steel | 11.4 mm | 38 mm | 22 mm | Polarity free red light | | 25 x 25 mm | 10-30 V | | Photoelectric sensor, compact square, stainless steel, BGS, 200 mm, red LED, NPN, L-ON/D-ON, M12 Smartclick Pig-tail 0.3 m |
| | Cuboid | Background suppression | 200 mm | 10 mm | Teach-In | Connector M8 - 4 pin | | NPN | Dark-ON, Light-ON | | 1 ms | Stainless steel | 11.4 mm | 38 mm | 22 mm | Polarity free red light | | 25 x 25 mm | 10-30 V | | Photoelectric sensor, compact square, stainless steel, BGS, 200 mm, red LED, NPN, L-ON/D-ON, M8 4-pin connector |
| | Cuboid | Background suppression | 200 mm | 10 mm | IO-Link, Teach-In | Cable | 2 m | PNP | Dark-ON, Light-ON | COM3 (230.4 kbps) | 1 ms | Stainless steel | 11.4 mm | 38 mm | 22 mm | Polarity free red light | | 25 x 25 mm | 10-30 V | | Photoelectric sensor, compact square, stainless steel, BGS, 200 mm, red LED, PNP, L-ON/D-ON, IO-Link COM3, 2 m prewired |
| | Cuboid | Background suppression | 200 mm | 10 mm | IO-Link, Teach-In | M12 Pre-wired Smartclick connector | 0.3 m | PNP | Dark-ON, Light-ON | COM3 (230.4 kbps) | 1 ms | Stainless steel | 11.4 mm | 38 mm | 22 mm | Polarity free red light | | 25 x 25 mm | 10-30 V | | Photoelectric sensor, compact square, stainless steel, BGS, 200 mm, red LED, PNP, L-ON/D-ON, IO-Link COM3, M12 Smartclick Pig-tail 0.3 m |
| | Cuboid | Background suppression | 200 mm | 10 mm | IO-Link, Teach-In | Connector M8 - 4 pin | | PNP | Dark-ON, Light-ON | COM3 (230.4 kbps) | 1 ms | Stainless steel | 11.4 mm | 38 mm | 22 mm | Polarity free red light | | 25 x 25 mm | 10-30 V | | Photoelectric sensor, compact square, stainless steel, BGS, 200 mm, red LED, PNP, L-ON/D-ON, IO-Link COM3, M8 4-pin connector |
| | Cuboid | Background suppression | 80 mm | 10 mm | IO-Link, Teach-In | Cable | 2 m | PNP | Dark-ON, Light-ON | COM2 (38.4 kbps) | 1 ms | Stainless steel | 11.4 mm | 38 mm | 22 mm | Polarity free red light | | 4 mm | 10-30 V | | Photoelectric sensor, compact square, stainless steel, BGS, 80 mm, red LED, PNP, L-ON/D-ON, IO-Link COM2, 2 m prewired |
| | Cuboid | Background suppression | 80 mm | 10 mm | IO-Link, Teach-In | M12 Pre-wired Smartclick connector | 0.3 m | PNP | Dark-ON, Light-ON | COM2 (38.4 kbps) | 1 ms | Stainless steel | 11.4 mm | 38 mm | 22 mm | Polarity free red light | | 4 mm | 10-30 V | | Photoelectric sensor, compact square, stainless steel, BGS, 80 mm, red LED, PNP, L-ON/D-ON, IO-Link COM2, M12 Smartclick Pig-tail 0.3 m |
| | Cuboid | Background suppression | 80 mm | 10 mm | IO-Link, Teach-In | Connector M8 - 4 pin | | PNP | Dark-ON, Light-ON | COM2 (38.4 kbps) | 1 ms | Stainless steel | 11.4 mm | 38 mm | 22 mm | Polarity free red light | | 4 mm | 10-30 V | | Photoelectric sensor, compact square, stainless steel, BGS, 80 mm, red LED, PNP, L-ON/D-ON, IO-Link COM2, M8 4-pin connector |
| | Cuboid | Background suppression | 80 mm | 10 mm | Teach-In | Cable | 2 m | NPN | Dark-ON, Light-ON | | 1 ms | Stainless steel | 11.4 mm | 38 mm | 22 mm | Polarity free red light | | 4 mm | 10-30 V | | Photoelectric sensor, compact square, stainless steel, BGS, 80 mm, red LED, NPN, L-ON/D-ON, 2 m prewired |
| | Cuboid | Background suppression | 80 mm | 10 mm | Teach-In | M12 Pre-wired Smartclick connector | 0.3 m | NPN | Dark-ON, Light-ON | | 1 ms | Stainless steel | 11.4 mm | 38 mm | 22 mm | Polarity free red light | | 4 mm | 10-30 V | | Photoelectric sensor, compact square, stainless steel, BGS, 80 mm, red LED, NPN, L-ON/D-ON, M12 Smartclick Pig-tail 0.3 m |
| | Cuboid | Background suppression | 80 mm | 10 mm | Teach-In | Connector M8 - 4 pin | | NPN | Dark-ON, Light-ON | | 1 ms | Stainless steel | 11.4 mm | 38 mm | 22 mm | Polarity free red light | | 4 mm | 10-30 V | | Photoelectric sensor, compact square, stainless steel, BGS, 80 mm, red LED, NPN, L-ON/D-ON, M8 4-pin connector |
| | Cuboid | Background suppression | 80 mm | 10 mm | IO-Link, Teach-In | Cable | 2 m | PNP | Dark-ON, Light-ON | COM3 (230.4 kbps) | 1 ms | Stainless steel | 11.4 mm | 38 mm | 22 mm | Polarity free red light | | 4 mm | 10-30 V | | Photoelectric sensor, compact square, stainless steel, BGS, 80 mm, red LED, PNP, L-ON/D-ON, IO-Link COM3, 2 m prewired |
| | Cuboid | Background suppression | 80 mm | 10 mm | IO-Link, Teach-In | M12 Pre-wired Smartclick connector | 0.3 m | PNP | Dark-ON, Light-ON | COM3 (230.4 kbps) | 1 ms | Stainless steel | 11.4 mm | 38 mm | 22 mm | Polarity free red light | | 4 mm | 10-30 V | | Photoelectric sensor, compact square, stainless steel, BGS, 80 mm, red LED, PNP, L-ON/D-ON, IO-Link COM3, M12 Smartclick Pig-tail 0.3 m |
| | Cuboid | Background suppression | 80 mm | 10 mm | IO-Link, Teach-In | Connector M8 - 4 pin | | PNP | Dark-ON, Light-ON | COM3 (230.4 kbps) | 1 ms | Stainless steel | 11.4 mm | 38 mm | 22 mm | Polarity free red light | | 4 mm | 10-30 V | | Photoelectric sensor, compact square, stainless steel, BGS, 80 mm, red LED, PNP, L-ON/D-ON, IO-Link COM3, M8 4-pin connector |
Compare products
Show more products