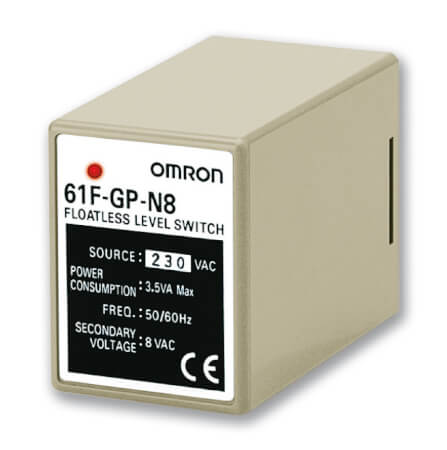 61F-GP-N8
Compact plug-in (8-pin) level controller
The 61F-GP-N8 can be used for single- or two-point level control of conductive materials, both liquids and solids. These products are equipped with a red LED operation indicator.
Low-voltage (AC) electrodes (8VAC or 24VAC)
Operation range: 4-15kΩ, 70-300kΩ
Detection method: conductive
Probes need to be ordered separately
Conforms to EMC and LVD directives, UL/CSA approved
Specifications & ordering info
Ordering information
Ordinary purified water, where the distance between sewage pumps and water tanks or
between receiver tanks and supply tanks is long or where remote control is required

2 km1

4 km1

Liquids with high specific resistance such as distilled water

Liquids with low specific resistance such as salt water, sewage water, acid chemicals,
alkali chemicals

Ordinary purified or sewage water, with two-wired-type electrode holder
(incorporating a resistor of 6.8 kΩ)
Accessories
For city water and other general use.
Easy-to-replace separate versions for maintenance.

When mounting space is limited.
Special 3­pole holder of small size and light weight.

Use for sewage, sea water, etc.,
having a low specific resistance.

150°C (without water drips or vapour on the electrode holder surface)

For resistance to high pressure.
Use in tanks with high temperature or pressure.

250°C (without water drips or vapour on the surface of the electrode holder)

Purified city water, industrial water, sewage,
dilute alkaline solution
Specifications
1 A, 250 VAC (inductive load: cosφ = 0.4), 3 A, 250 VAC (resistive load)

Electrical: 100,000 operations min., mechanical: 5,000,000 operations min
---
How can we help you?
If you have a question or would like to ask for a quote, please contact us or send a request.
+44 (0)870 752 0861
Contact us
Contact me 61F-GP-N8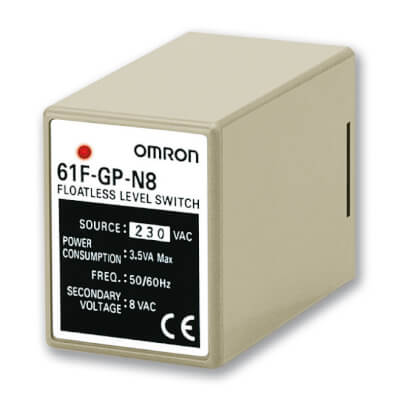 Thank you for submitting your request. We will come back to you as soon as possible.
We are experiencing technical difficulties. Your form submission has not been successful. Please accept our apologies and try again later. Details: [details]
Download
Request quotation
Request quotation
Quotation for 61F-GP-N8
By completing this form you can request a quotation. Your personal details will be handled confidentially.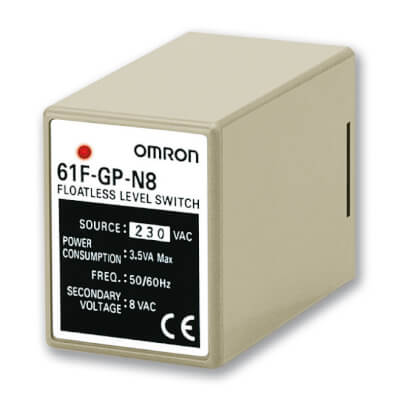 Thank you for requesting a quotation. We will provide you with the required information as soon as possible.
We are experiencing technical difficulties. Your form submission has not been successful. Please accept our apologies and try again later. Details: [details]
Download