RB1200 Cobot Palletiser
Designed in collaboration with our solution partner Reeco Automation, the RB1200 has the potential to revolutionise EOL palletising.
OMRON and Reeco have taken collaborative robotics innovation to the next level with the development of the RB1200 cobot palletiser that costs up to 50% less and has a 60% smaller footprint than a conventional robot palletiser. These game-changing metrics have a radical impact on project payback, making end-of-line robotic automation economically attractive to producers of all sizes for the first time.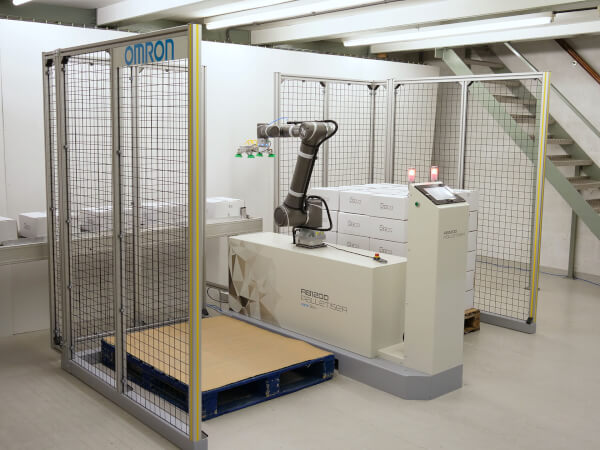 Flexible and agile solution - Designed to be easily redeployed to maximise utilisation and changes in production demand.
Easy operation - Pack and layout configuration changes can be completed in minutes using Reeco's EasyStack visual software.
Compact footprint - The RB1200 measures just 2.2 x 3.2m, which equates to a 60% size reduction compared to traditional palletisers.
Integrated Safety - A complete palletising solution with integrated safety for enabling immediate deployment.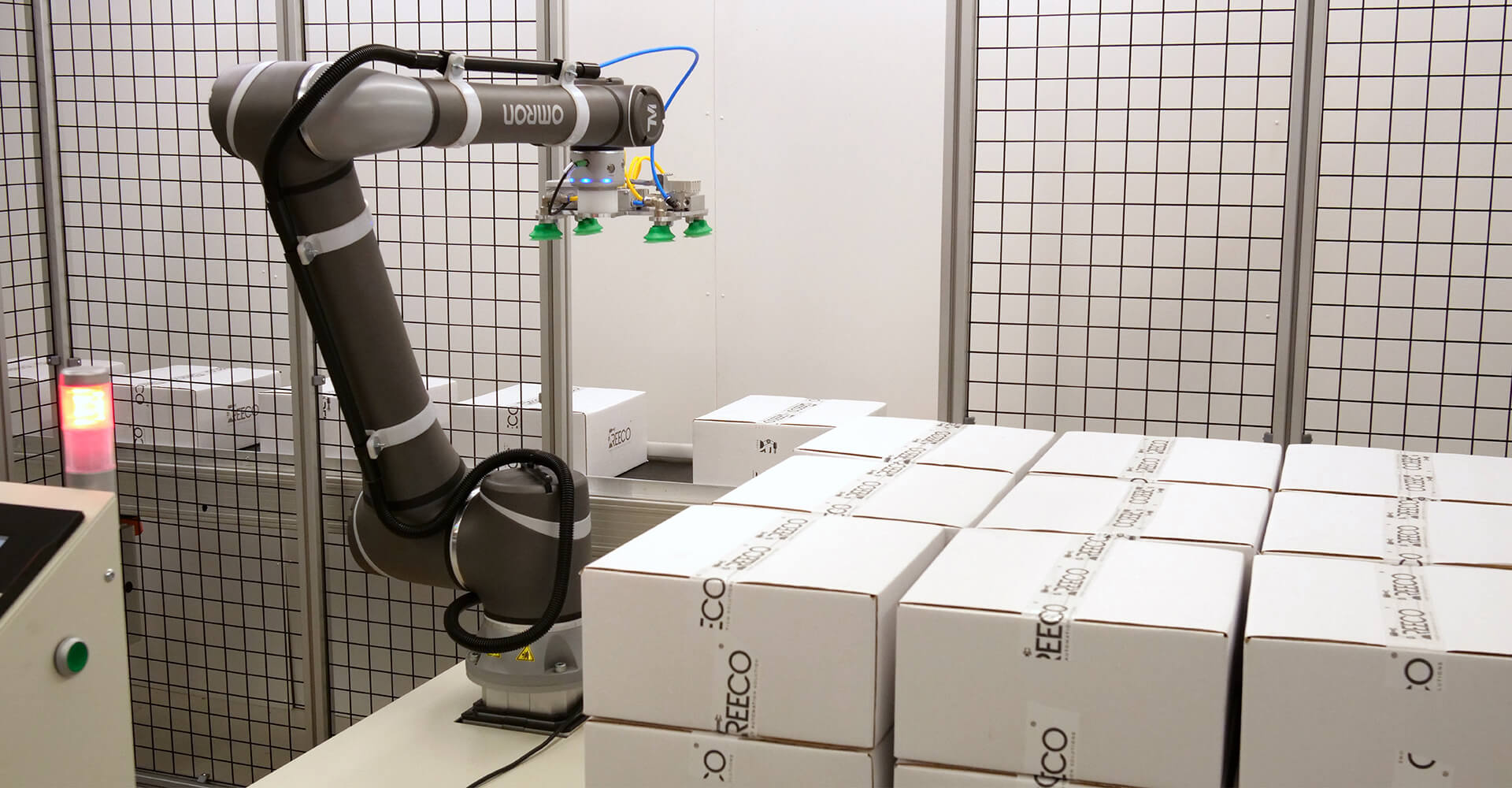 RB1200 Cobot Palletiser Introduction
OMRON and Reeco Automation have partnered to bring you the RB1200 palletiser. A safe, flexible and versatile solution to palletising processes which is designed to improve production efficiency and save costs.
Watch video
OMRON and Reeco Automation have partnered to bring you the RB1200 palletiser. A safe, flexible and versatile solution to the EOL palletising process, designed to improve production efficiency, provide enhanced flexibility and save costs. Read more:

02:18
Flexible and agile solution
The RB1200 cobot palletiser is a compact plug-and-play system that can be easily switched between lines. This ensures users can maximise their utilisation of the system and provides the flexibility to cope with rapid changes in demand across the factory. The RB1200 palletisers intrinsic flexibility contributes to a compelling payback case.
Watch video
OMRON UK and Reeco introduce the RB1200. The lack of extraneous kit makes the RB1200 easy to move between lines. The RB1200 is light and transportable; it can easily be moved by pump truck to another line within minutes. By contrast, to redeploy a traditional robot palletiser to another part of the factory would be a huge undertaking, requiring a significant logistics effort and considerable time. Read more:

00:12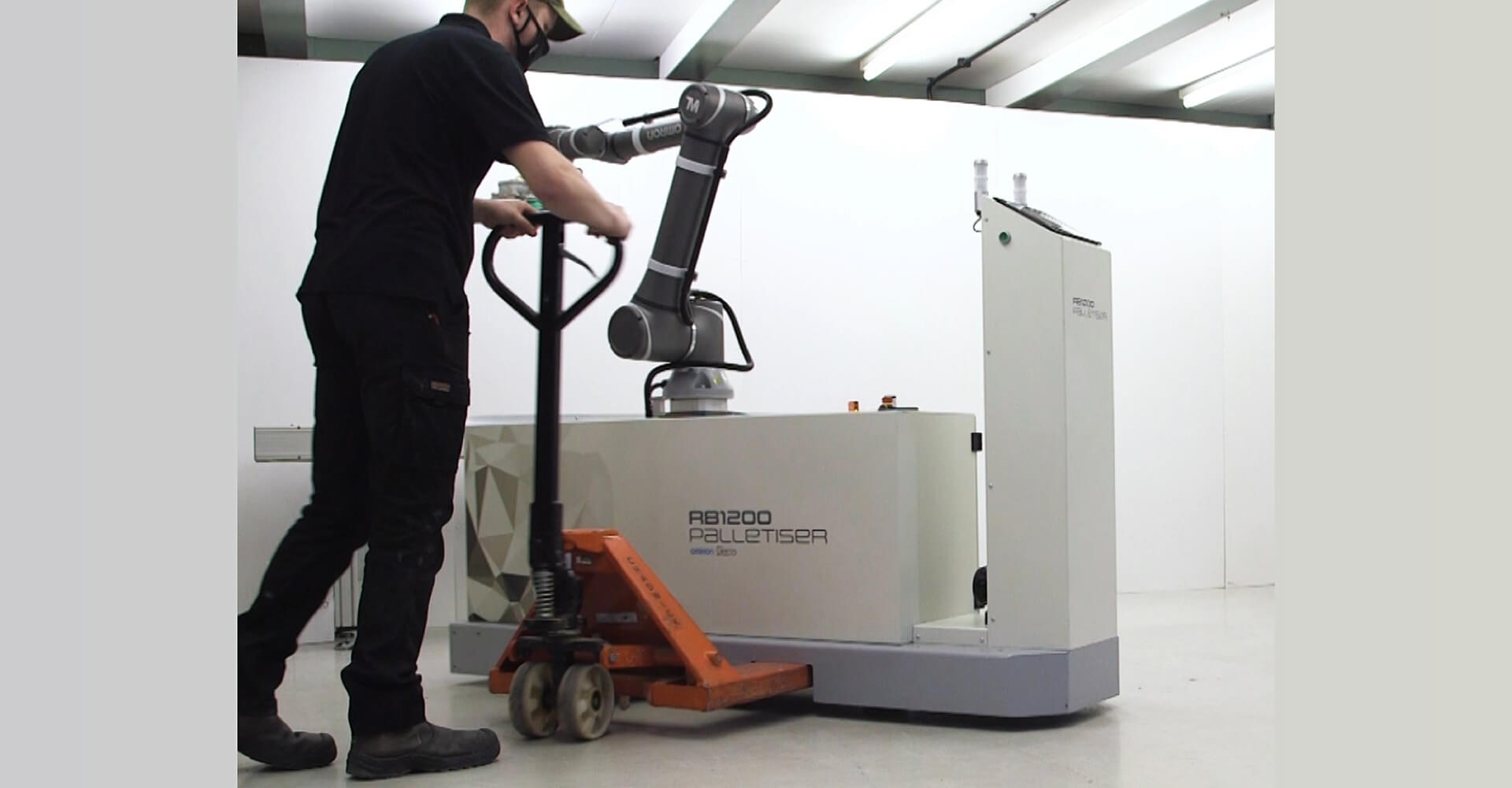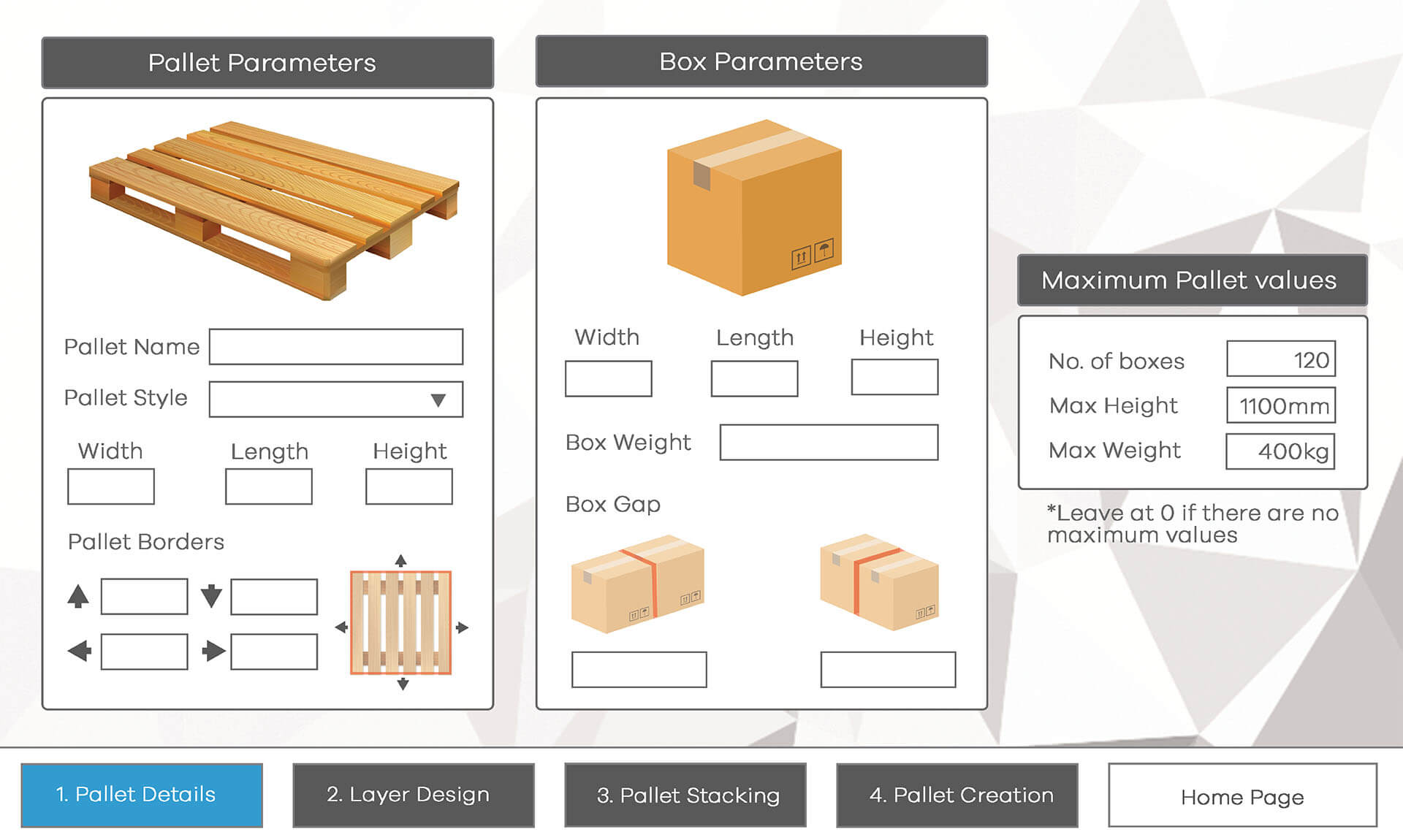 Easy Operation
Reeco's EasyStack configuration interface simplifies the process of programming new pallet formats. The visual tool is intuitive and supported by easy to understand visual aids.
Configuration is completed in a few steps and requires only basic pallet and box parameters to be entered, followed by the layer design and stack preferences. The tool is designed to be programmed by line operators and without the need of involving engineering support.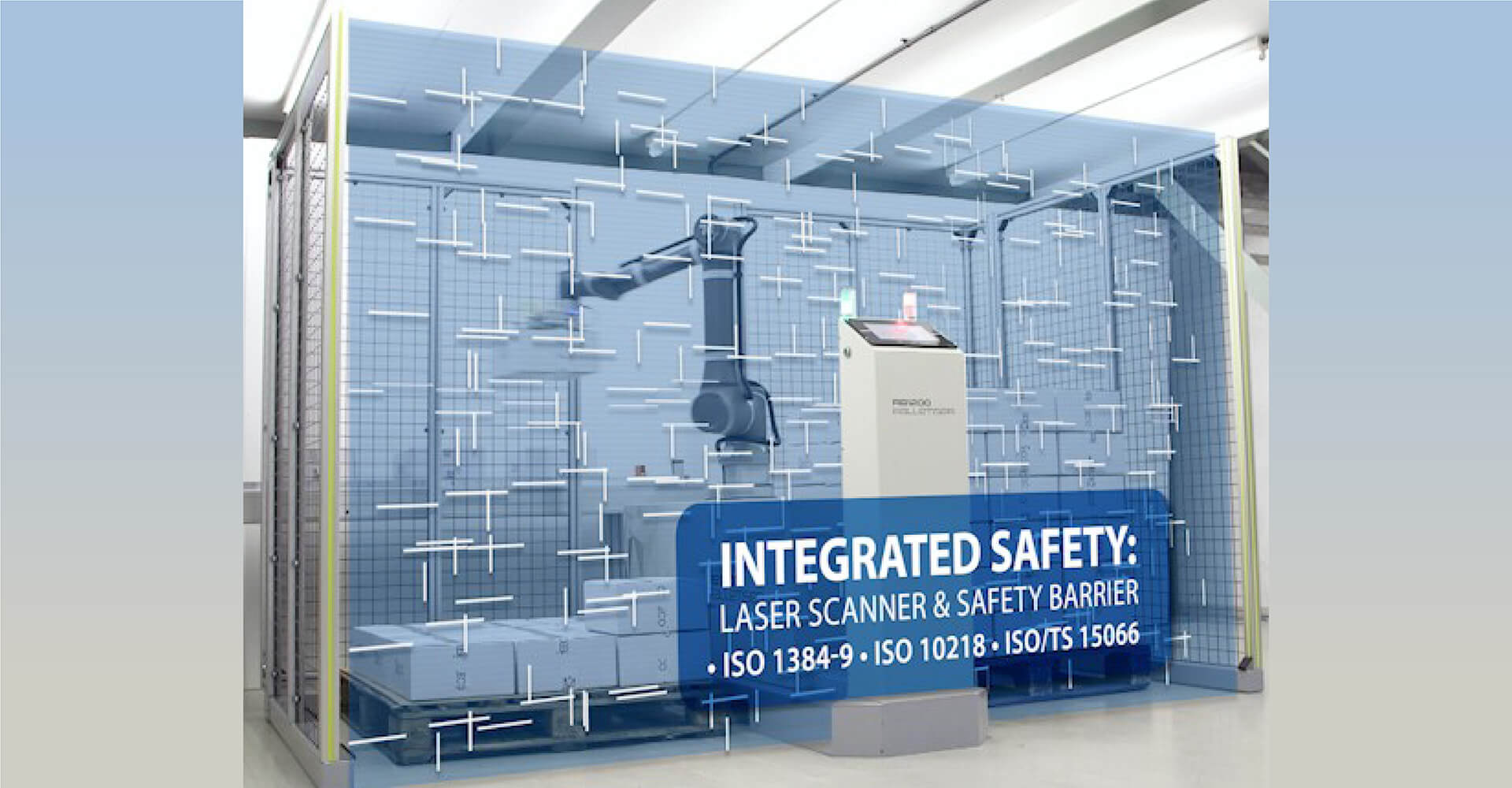 Integrated Safety
Each system comes with integrated safety to ensure quick deployment and compliance. The RB1200 has been assessed and designed accordingly to ensure quick deployment with no safety concern. Safety fencing is used alongside each pallet runway, with limited access at the rear. Fencing allows us to restrict entry points and accurately monitor them with safety scanners.
Payload
The RB1200 can handle products up to 10Kg
Pick Rate
The pick rate of the RB1200 is 12 picks per minute
Flexible Box & Pallet Size
The RB1200 is designed to accommodate a wide range of pallet and box dimensions
Interested in hearing more about the RB1200 Cobot Palletiser?
Fully Automate Pallet delivery and retrieval
The RB1200 can be made compatible with AMR's, which together make the perfect team for a completely automated end of line packaging system. These can be integrated into the factory an used alongside the RB1200 to load fresh pallets and unload completed pallets, taking them to wrapping applicator and finally to a warehouse.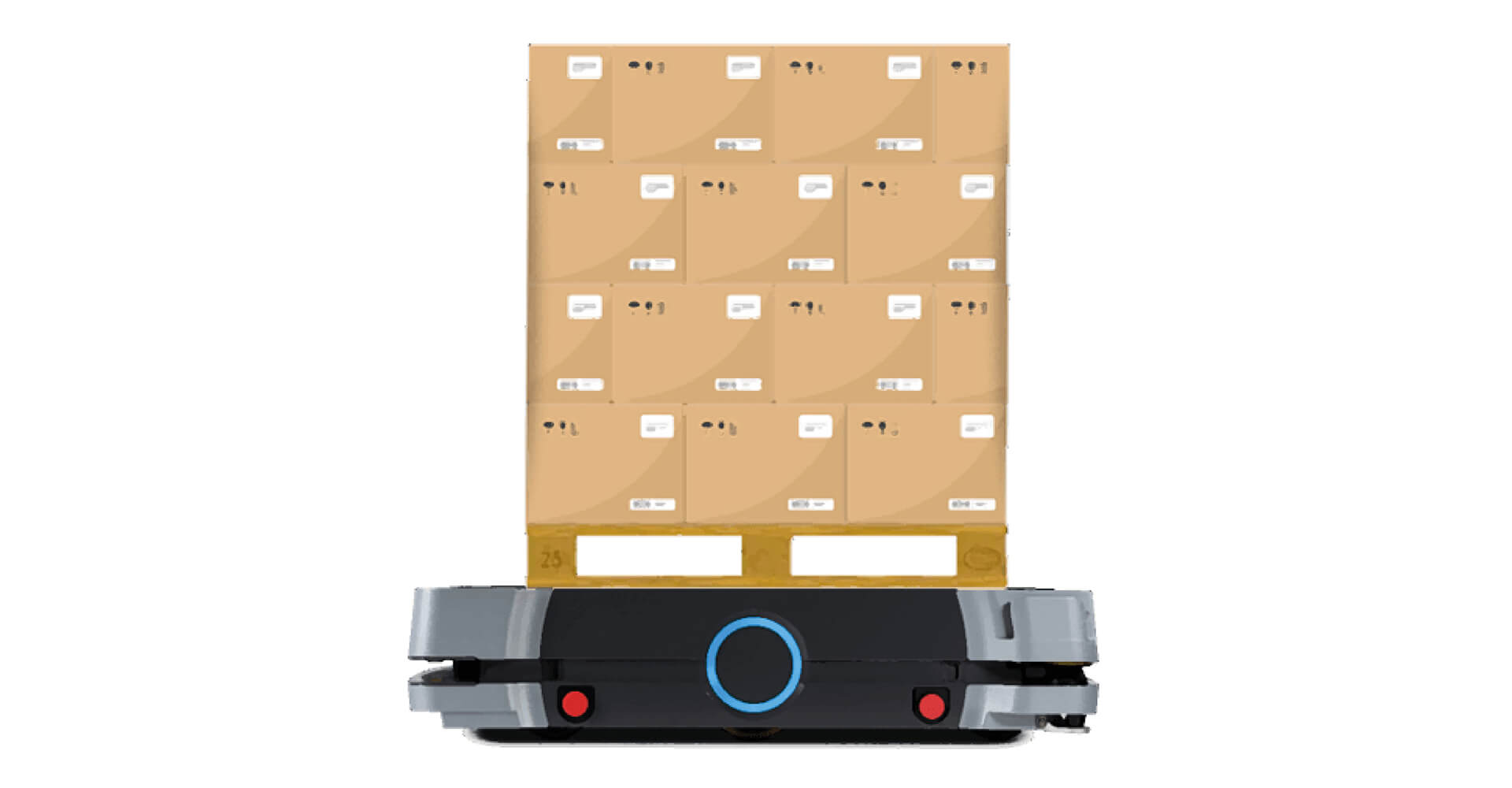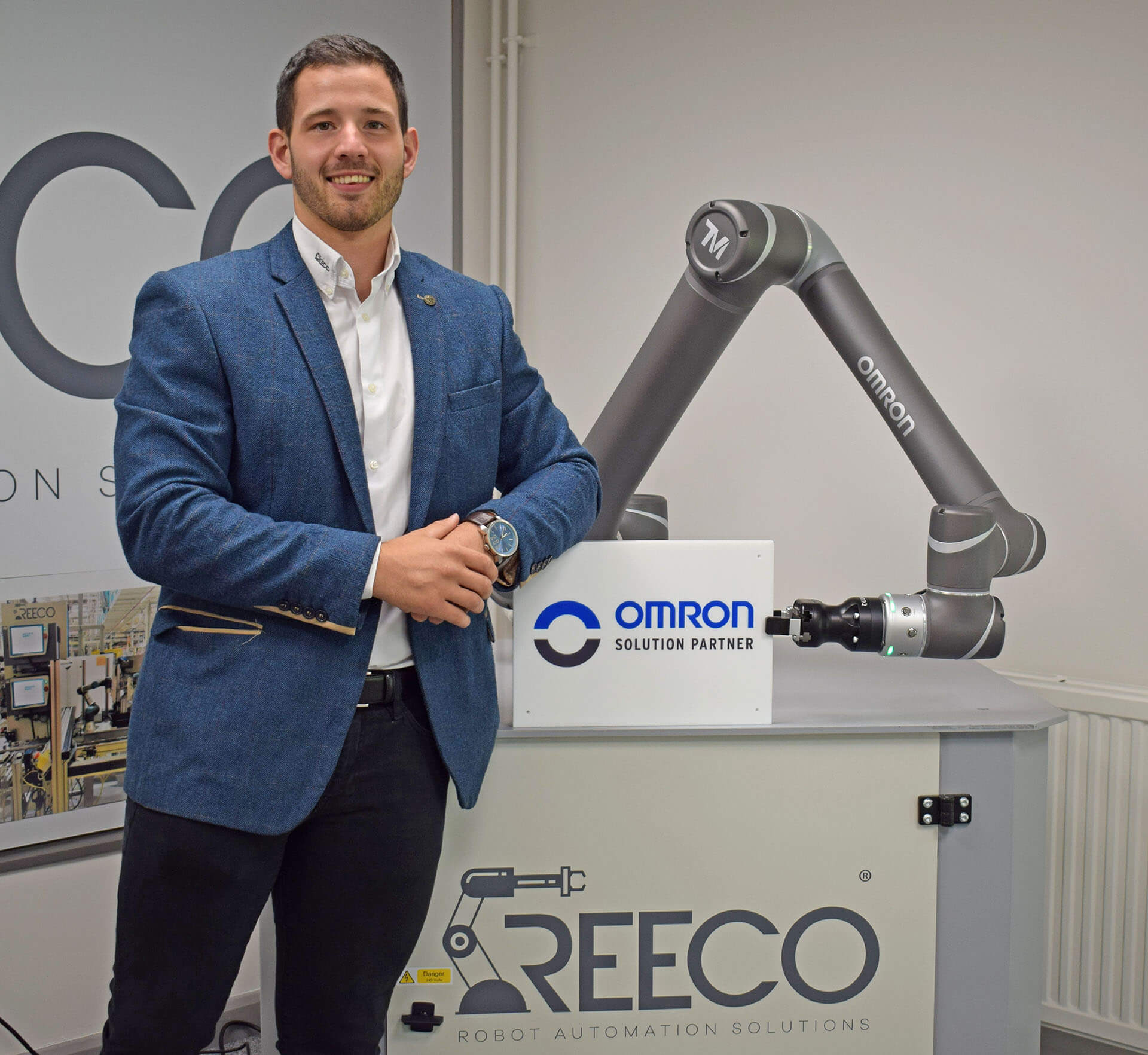 Reeco Automation – Collaborative Robot Solution Partner
Specialising in the design, development and integration of collaborative robot solutions, REECO focuses on providing customers with turnkey automation applications that provide real value by reducing production costs, increasing efficiency and enabling flexibility by integrating around existing equipment, operators and processes. REECO's offering continues to expand as the market continues to innovate, providing customers with advanced automation equipment, technologies and expert support through the supply of bespoke solutions and specialised automation products.