Meet the next gen co-workers
Boost the productivity of your people
Imagine having all the hands you need to keep production running to meet demand. Are you looking for an addition to your team to improve productivity? Meet your next generation of co-workers.
Cobots are easy to set up and offer a quick and cost-effective solution. They can increase the flexibility, quality and speed of production and enable your company to respond rapidly to changing market conditions.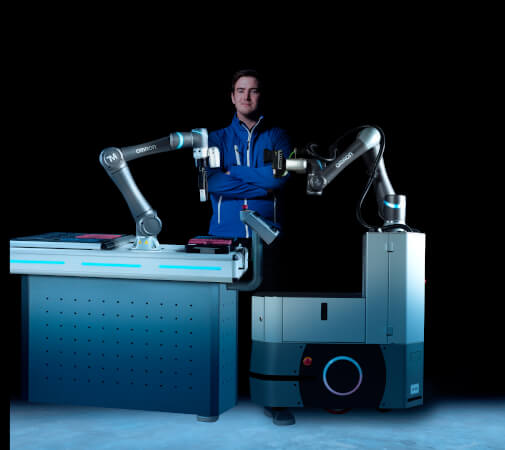 Easy to start
To reduce the downtime to automate with robots you need a robot that can start fast and stay running. Our cobots are delivered with everything you need to get started, right out the box.
Low cost of ownership
OMRON cobots provide the highest returns on investment. They can flexibly adapt to new production processes and layouts within a few minutes.
Flexibility
Our collaborative robots are designed to be easily deployed to different tasks and applications, making production as flexible as needed.
Working in harmony
Our cobots learn fast and can make your production more efficient. In just a few minutes, you can teach them how they can share tasks with humans and flexibly adapt to new requirements. Reap the benefits of integrated safety features that allow them to work with or close to humans and boost productivity for a wide variety of repetitive tasks.
Watch video
Omron's factory in Shanghai is creating an environment where people and robots work together, to meet challenges in manufacturing today, such as shortage in manpower and overall equipment effectiveness (OEE). In this video, you can see how Omron TM collaborative robots work safely side-by-side with people.

04:46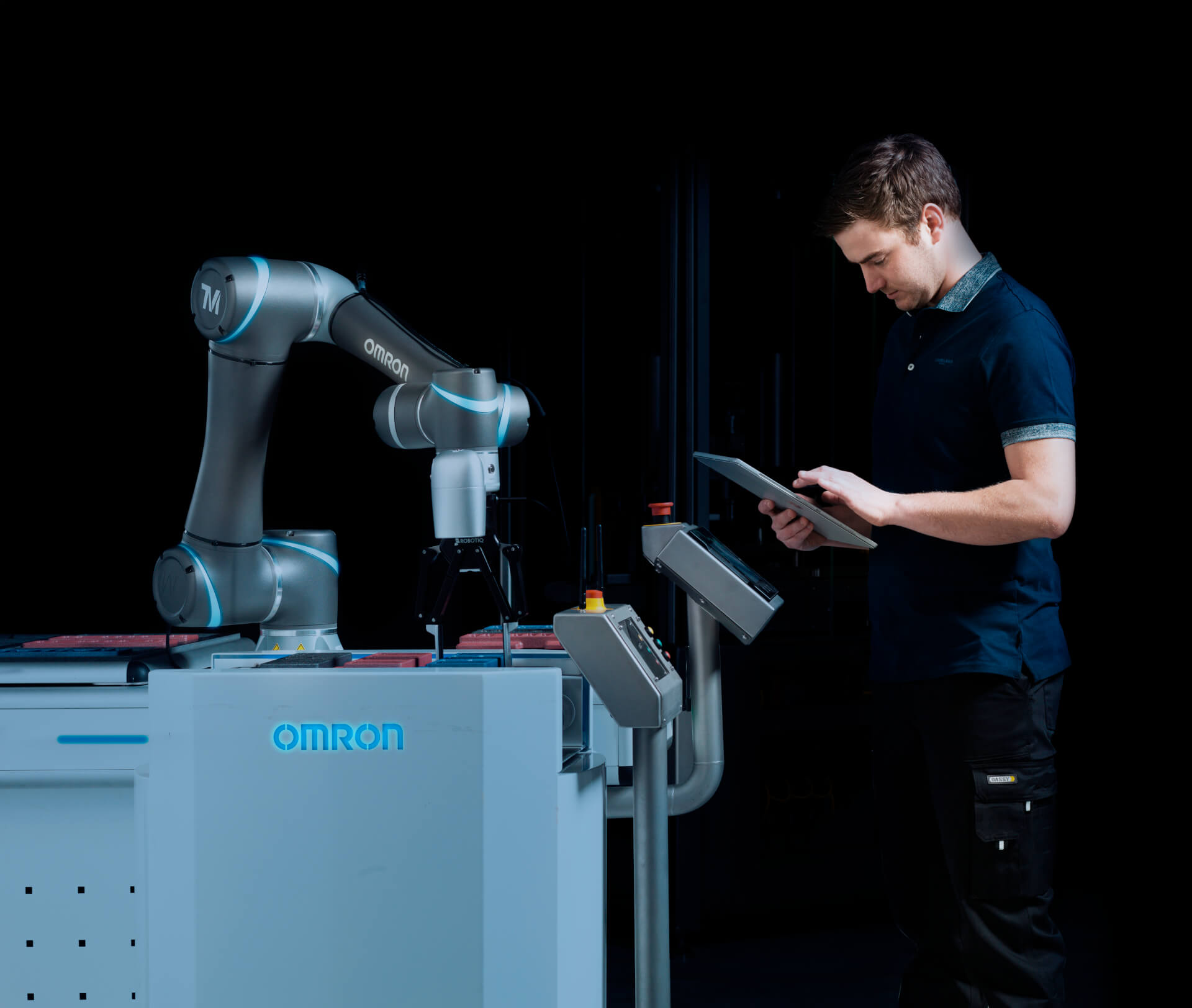 Applications
Whether you're working in automotive, food and beverage industry, packaging, plastics, machine tools or pharmaceutical manufacturing, the OMRON TM Collaborative Robot is designed to adapt to almost any industry.
Interested in hearing more about our collaborative robots?
Safety in collaborative applications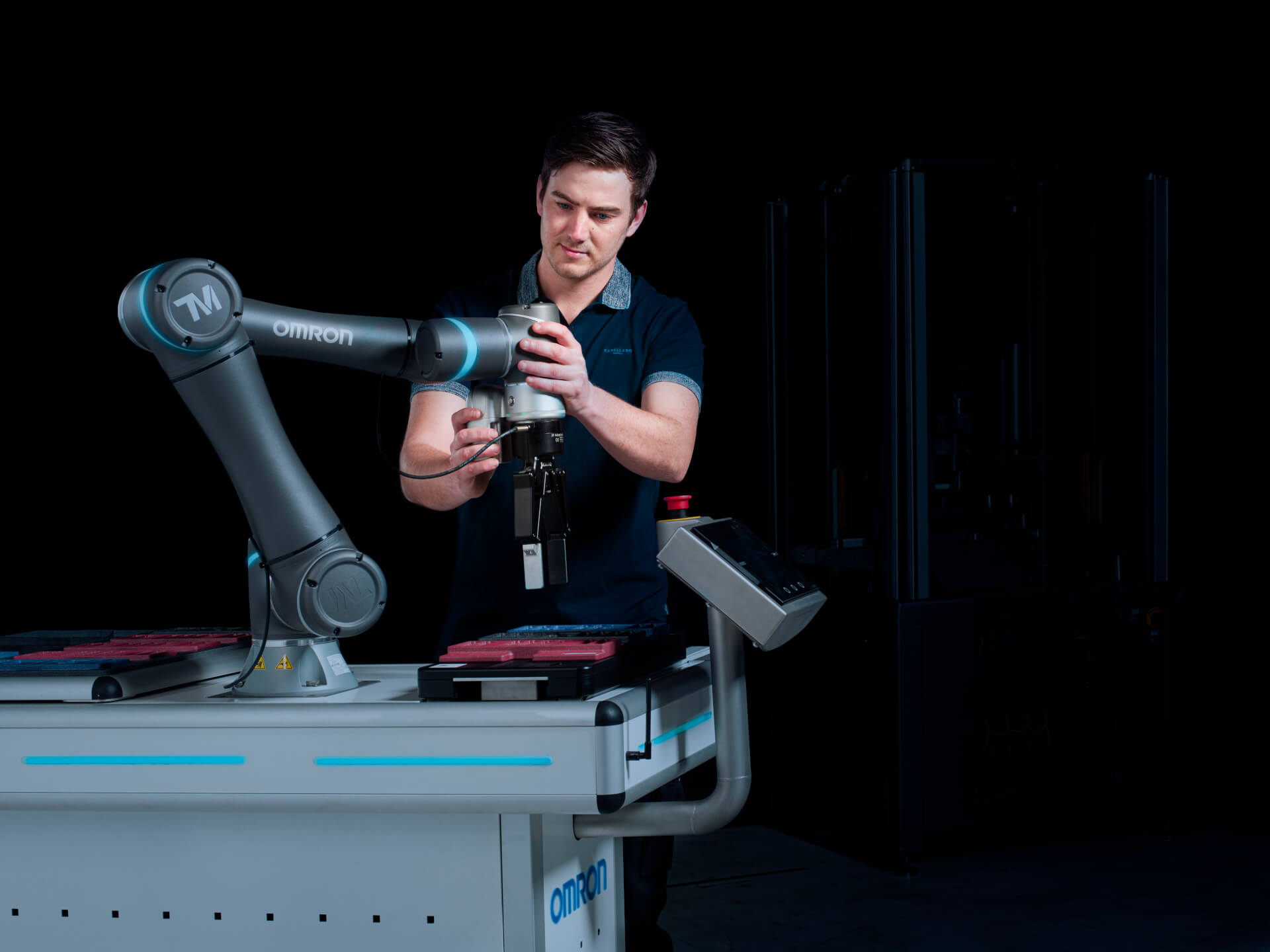 Collaborative robots come with integrated safety features that enable them to work closely with humans while boosting your productivity in a wide variety of strenuous and repetitive tasks.
Cobots are easy to implement and adapt quickly and easily to new situations. Working closely together with your existing staff. Making sure that they have the time to do what humans do best – creative and value-adding tasks.
We designed our cobots in line with ISO 10218-1 and ISO 10218-2 safety standards ISO TS-15066 technical specification to define the required safety functions and performance. We invite you to download our white paper on cobots to read up on industry standards, risk assessments, best practices and strategies for maximizing the value of your application.
Risk Assessment Service
Our team is here to help you introduce cobots to your team. Starting with a Risk Assessment Service to mitigate potential safety hazards in your production. Our safety engineers bring unrivaled expertise to work onsite, identifying relevant standards and requirements for any human-machine interaction.
Meet your next gen co-workers
OMRON's line-up of collaborative robots include a variety of models to guarantee the right reach and payload for different applications.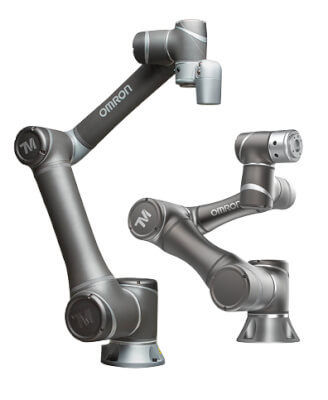 TM 5 - 700
Reach

700 mm

Payload

6 kg

Max speed

1.1 m/s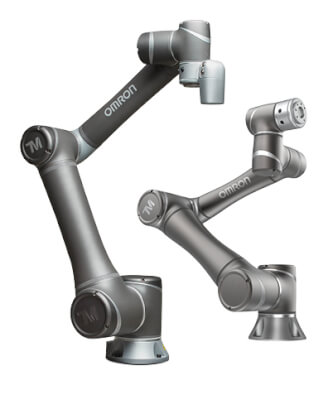 TM 5 - 900
Reach

900 mm

Payload

4 kg

Max speed

1.4 m/s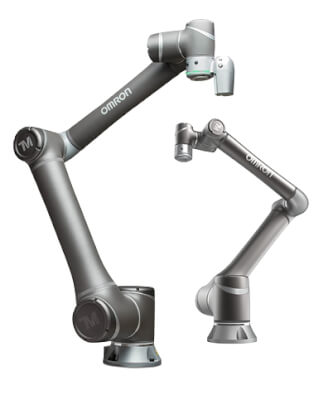 TM 12
Reach

1300 mm

Payload

12 kg

Max speed

1.3 m/s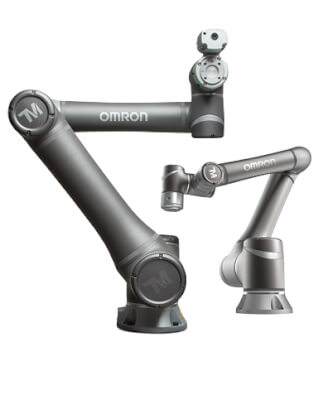 TM 14
Reach

1100 mm

Payload

14 kg

Max speed

1.1 m/s
Cobots provide much greater flexibility
We have designed our collaborative robots to be easily deployed to different tasks and applications. Making production as flexible as needed and empowering your people to do what they do best.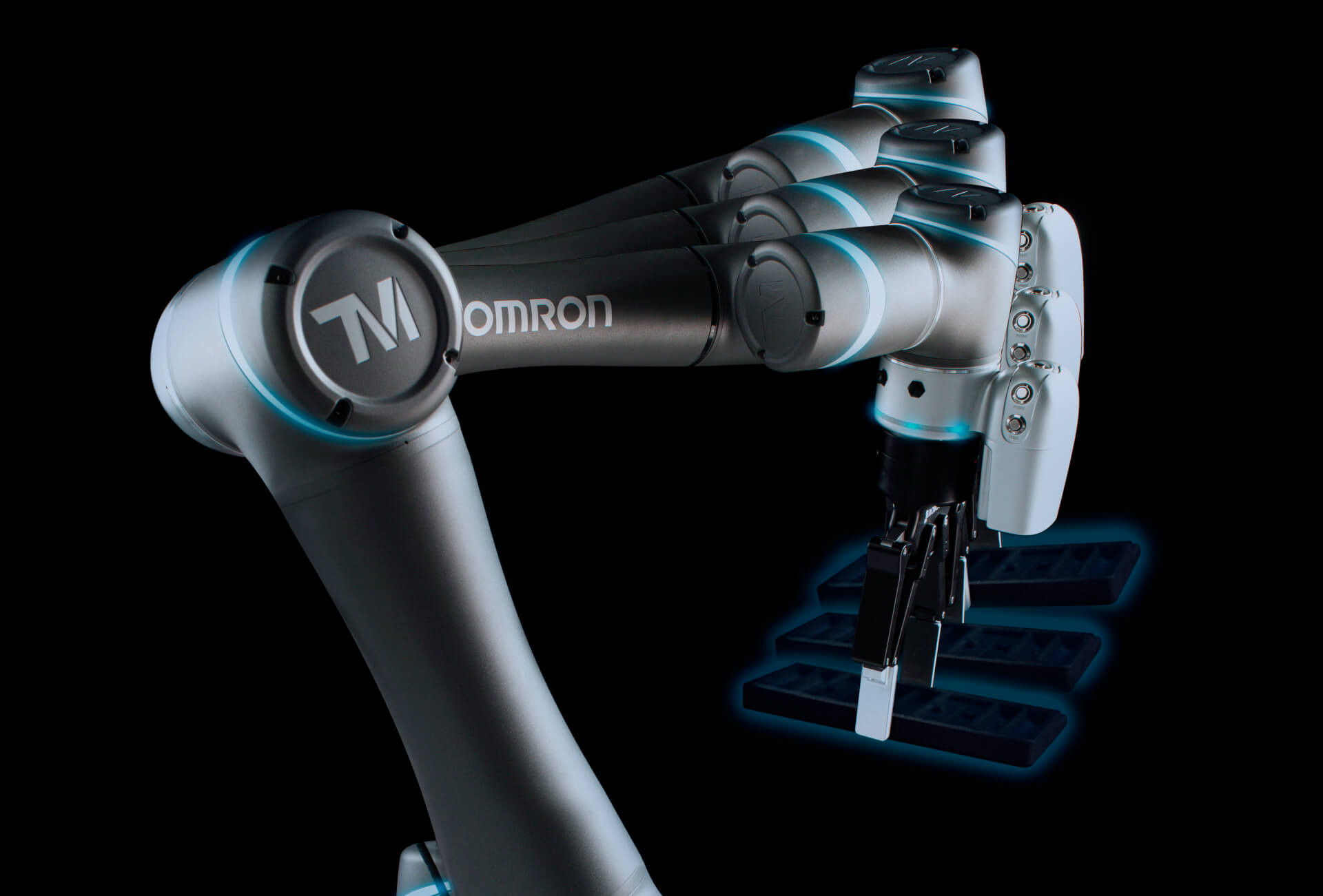 Solution Partners
OMRON Solution Partners are engineering companies that collaborate with OMRON, complementing OMRON technology to build solutions that cover the demands of industry.