Meet our flex co-workers
Discover the flexible robotics solution
OMRON TM cobots are geared toward manufacturers that seek to embrace the future and boost production. Cobots are ideal colleagues, automating repetitive tasks such as machine tending, loading and unloading or assembly tasks.
Our collaborative robots are safe, simple to program, and easy to integrate with other equipment, representing a big step toward creating an intelligent manufacturing environment where humans and machines work in harmony.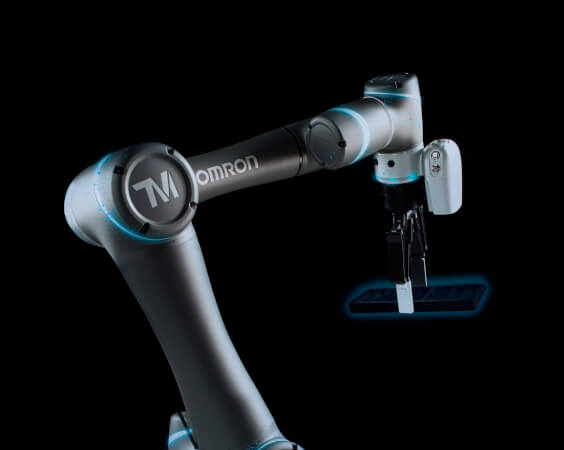 Meet your new colleagues
OMRON's line-up of collaborative robots include a variety of models to guarantee the right reach and payload for different applications.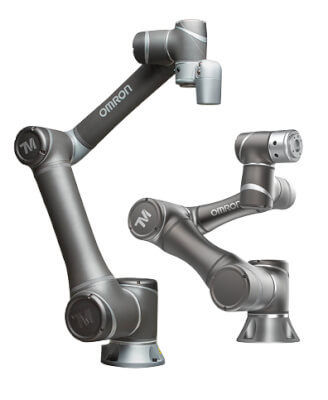 TM 5 - 700
Reach

700 mm

Payload

6 kg

Max speed

1.1 m/s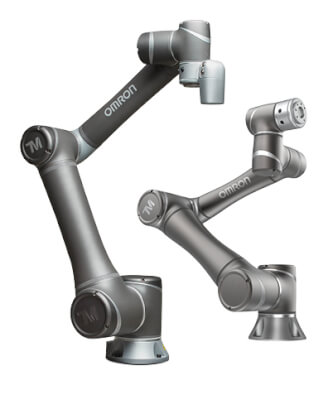 TM 5 - 900
Reach

900 mm

Payload

4 kg

Max speed

1.4 m/s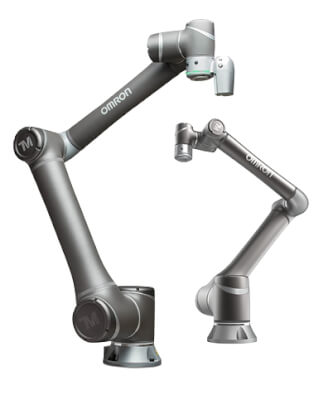 TM 12
Reach

1300 mm

Payload

12 kg

Max speed

1.3 m/s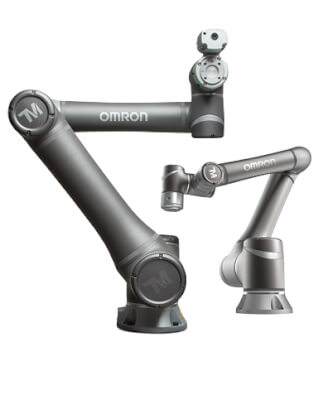 TM 14
Reach

1100 mm

Payload

14 kg

Max speed

1.1 m/s
Easy to deploy
Downtime costs money, which means you need a robot that can start fast and stay running. With cobot you can set up simple applications in just a few minutes.
Built-in Vision
The integrated camera localizes objects in a wide field of vision, and the image-enhancement light enables object recognition under almost any conditions.
Simplified programming
Our graphical programming allows users to automate a task with intuitive flow- based software enables cobot to work right out of the box, requires no coding.
Complete your application
OMRON has partnered with a select number of companies to offer a wide variety of peripherals that quickly and easily integrate with our cobots, allowing for a faster deployment and return on investment. They are collectively referred to as Plug & Play devices and software, designed to serve a broad range of customer applications and meet the highest testing standards of OMRON.
Quickly assemble all the required products for a complete cobot solution with available Plug & Play accessories: mobile and stationary cobot stands, grippers and additional vision and cable management solutions.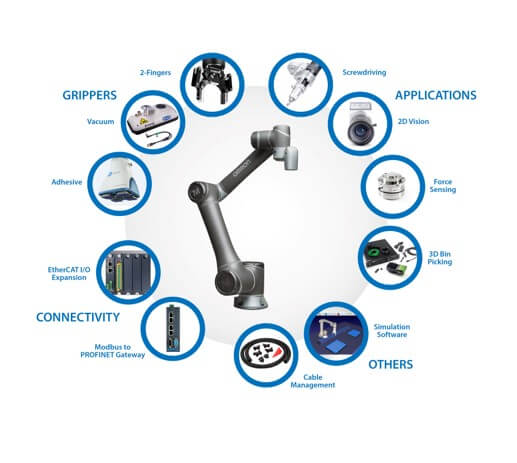 Applications
Whether you're working in automotive, food and beverage industry, packaging, plastics, machine tools or pharmaceutical manufacturing, the OMRON TM Collaborative Robot is designed to adapt to almost any industry.
Designed for flexible manufacturing
We have designed our collaborative robots to be easily deployed to different tasks and applications. Making production as flexible as needed and empowering your people to do what they do best.
Product life cycles are getting shorter. Production and automation solutions can support your needs to adapt production processes quickly. 
Cobots can help to future-proof SMEs where needed, from simple pick-and-place applications for parts handling, sorting and palletizing, through to machine assembly. 
Your employees will also experience significant benefits since they are relieved from monotonous and physically demanding or even dangerous work. Our cobots will support them in heavy lifting and precision work, so they can concentrate on their core abilities.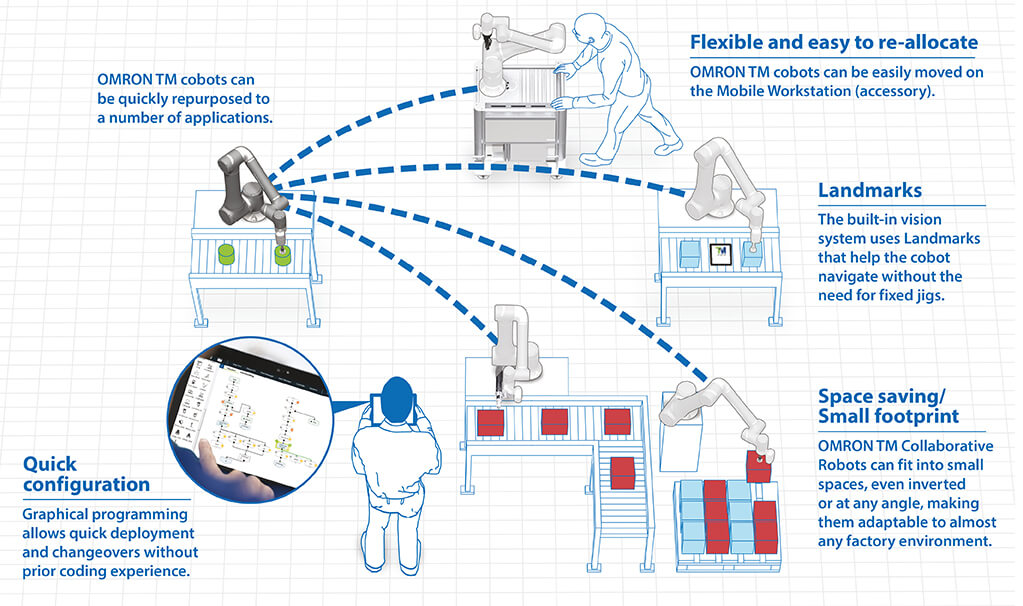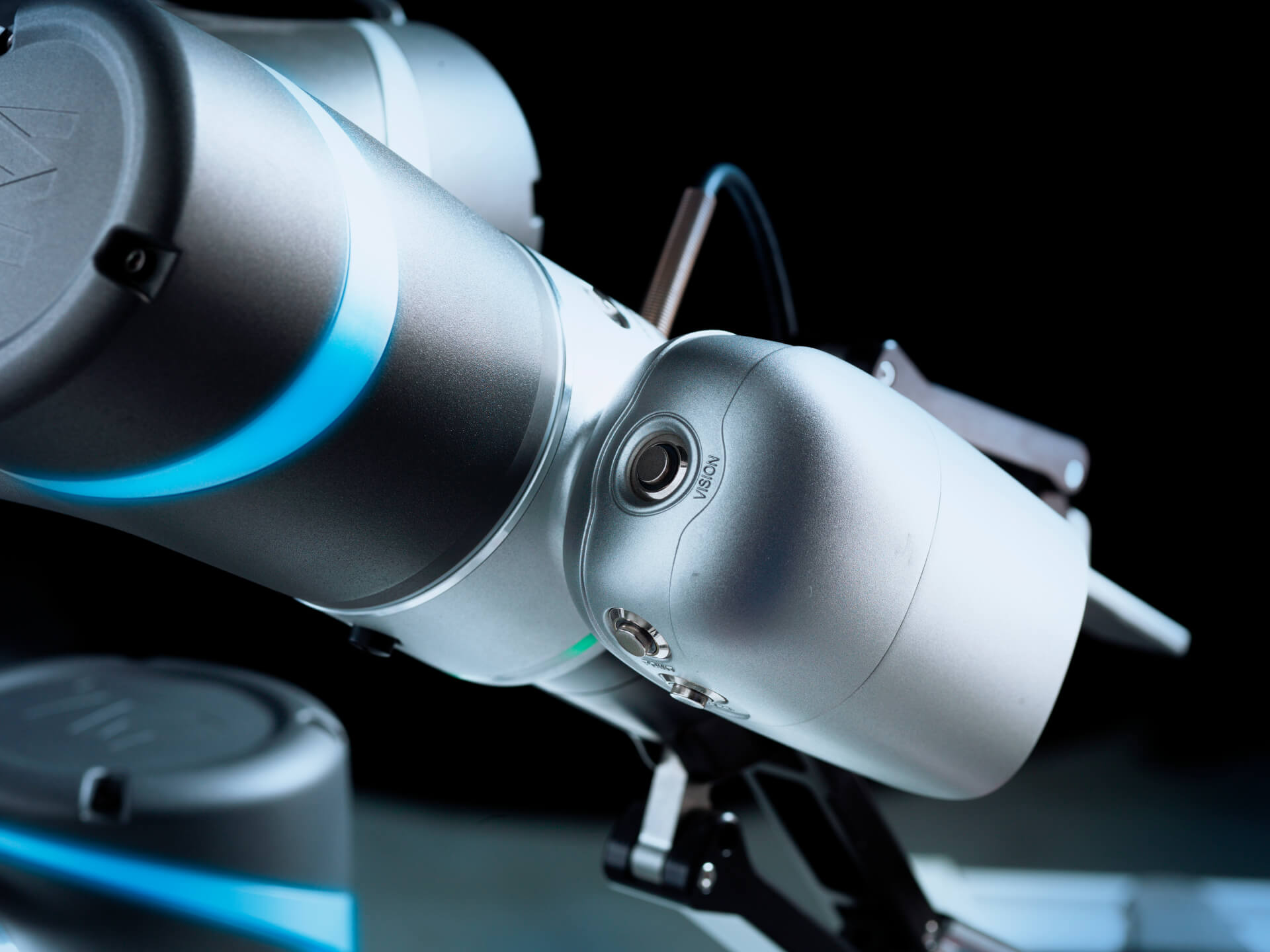 Create your application within an hour
With graphical programming, hand guiding, and intelligent vision, OMRON TM cobots are designed to be easy and intuitive. The hand guide mode allows you to easily set points and assign tasks to the robot, no programming is required. Teach buttons are located directly on the wrist of the cobot arm for hands on position teaching, gripper activation, and vision task placements. Having the teach control on the end of robot arm tool is an advantage for user friendly operations. Using only four buttons on the robotic arm, you can set up simple applications in just a few minutes.
Integrated vision
The built-in camera and the integrated vision system are two of the biggest advantages of OMRON cobots. The vision system is designed for pattern recognition, object positioning, and barcode identification, and includes features such as vision recognition and image enhancement. Using the software's task designer, users can set up vision tasks for immediate deployment without the need for installing additional cameras or lighting equipment.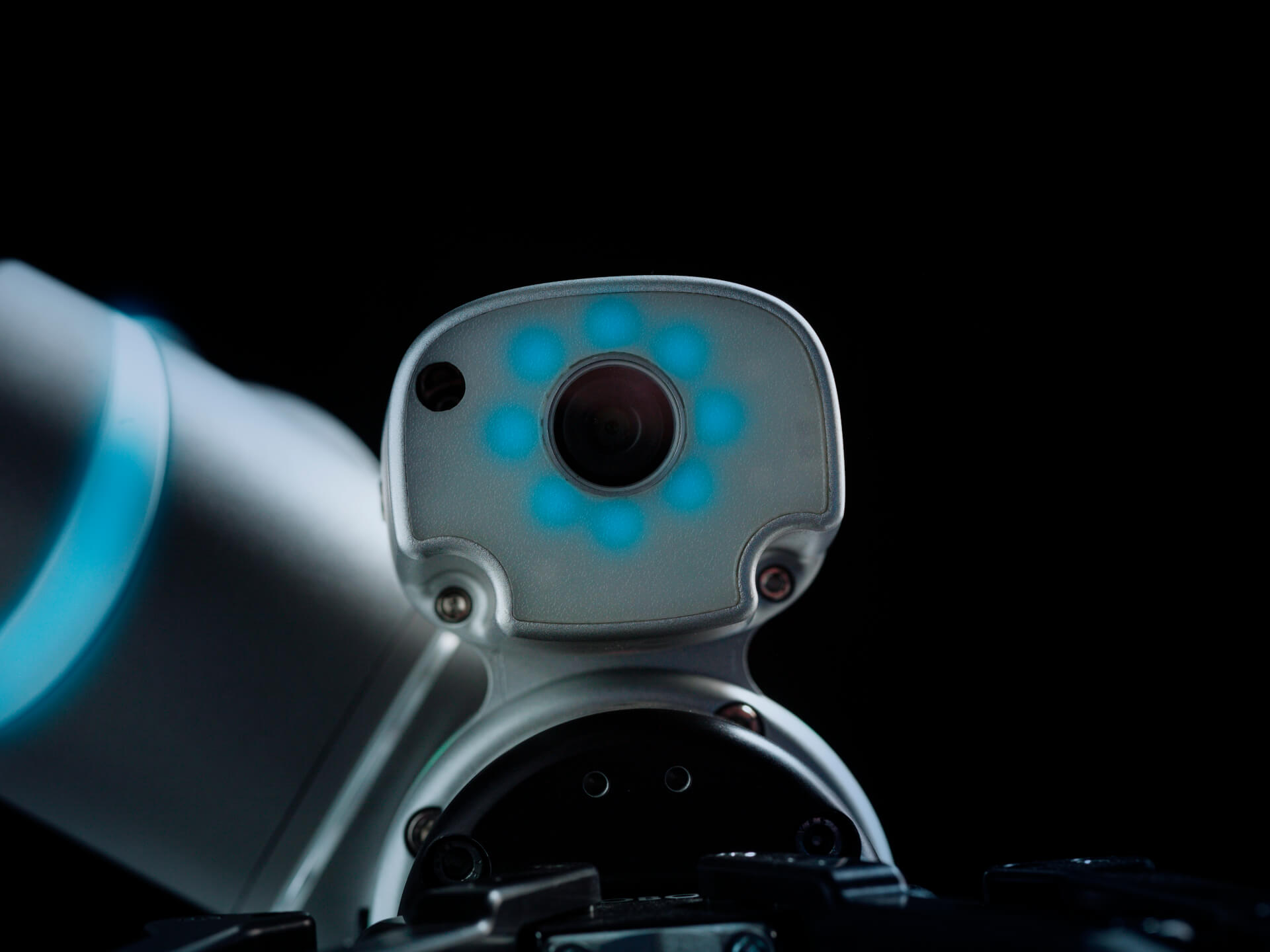 Landmark navigation
During high-mix, low-volume production with quick changeovers, customers can redeploy the robot without spending time to recalibrate the vision system. Our cobots use landmarks for easy redeployment without requiring jigs or recalibration. 
A landmark is a physical object that can be recognized by the robot's built-in camera, and acts as a beacon to help the robot navigate. 
Choosing Cobot vs. Industrial Robot
OMRON TM Collaborative Robots change the way the traditional factory used to work. No physical cages are needed anymore. Designed for high-mix, low-volume production at a speed comparable to human workers, OMRON TM cobots can work with humans in harmony.
Traditional industrial robot
Traditional industrial robots must be separated from human activity by a safety fence or cage, and must be fixed to one place as they are normally used for one specific task.
Complex configuration
Robotic experts are required
Rigid solutions
Large footprint
Protection fences are required
High additional cost associated
Collaborative robot
Cobots were created to work safely and in harmony with people. They can be moved from one location to another to work on different tasks.
Quick configuration
No experts are required
Flexible and easy to re-allocate
Space saving / Small footprint
Human-machine collaboration
Short ROI
Solution Partners
OMRON Solution Partners are engineering companies that collaborate with OMRON, complementing OMRON technology to build solutions that cover the demands of industry.